WITF Music: Zach Wood and Hollan
From across the state, a musical collaboration explores identity and uncertainty.
Listen to the radio feature:
Harrisburg musician Anna Manotti, who goes by the name Hollan, recalls how she met Pittsburgh musician Zach Wood.
"We met through mutual friends up at Penn State. They showed us the other one's music. He came to a show I was playing in State College in 2016 but we didn't actually meet. He left the show early," she laughs.
"I had an exam so I didn't get to stick around to say hi," Zach admits.
"So we didn't actually meet until 2019."
Both Anna and Zach have their own solo projects, but they liked each other's music so much they decided to make a collaborative EP called Cowgirland (Spotify/Bandcamp). It's a collection of both of their songs with the other adding harmonies and guitar parts.
"This project is collaborative in the sense of playing together and singing together and arranging I suppose," says Anna. "But as far as the writing goes, the songs that we sing on the record are each the ones that we wrote."
The songs are very personal, with each writer revealing inner thoughts about their identities, their fears and worries and their anxiety around the pandemic.
Out on the lawn at WITF, they started with Anna's song "Water".

So I flew away 
Right into a sea cloud
Landed in grasses that looked familiar
I was never told how
And I don't belong here
But do I belong there
Do I belong to a place or a name
Or an old love affair? 
"I wrote that song when I was 20. I had moved to Germany and back during that time. I had a lot of twenty-year-old angst. My family's German so I was really feeling the contrast between my identity in terms of where I'm from and how I felt at the time, like I was neither and both. The song is a reminder to myself of moments in my life where I felt most myself. It was a way to set me back on course with who I am."
When Anna and Zach visited WITF, we filmed the interview and performance outside, a vestige of pandemic-related precautions. Zach's song "West Coast" recalls a time earlier in the pandemic when travel to see family was difficult if not impossible, especially when family was on the other side of the country. It address the uncertainty and questions of the time.
"It's just how I was feeling, thinking about when this all exploded, when was I going to see my family again. Everyone was in an uncertain period, on lockdown. So I started humming that melody in my head and I really liked the line 'Usually I do as I'm told/That doesn't matter now' And I think for people that hear that it could be open to interpretation, but for me … I think sometimes people feel like, 'Oh, I've done all this stuff for someone else, I should have some sort of good credit that I can apply to this, because I've been a good person, I can do what I want.' And for me it was thinking this is a real historical, global event. We're all in on this together. So it doesn't matter if you're used to doing things for other people or not, that doesn't matter now. This is now and we've got to work around this thing."
For Anna, there's a kind of urgency when a mood or inspiration strikes, because that feeling can be fleeting and it needs to be captured quickly.
"I think it just has to do with having a strong feeling and needing to translate it somehow. I think when you feel things really strongly it's almost like one taste or one mood. I think for me that's the point for me where songs just tumble out because you need to do something with them or else they go away."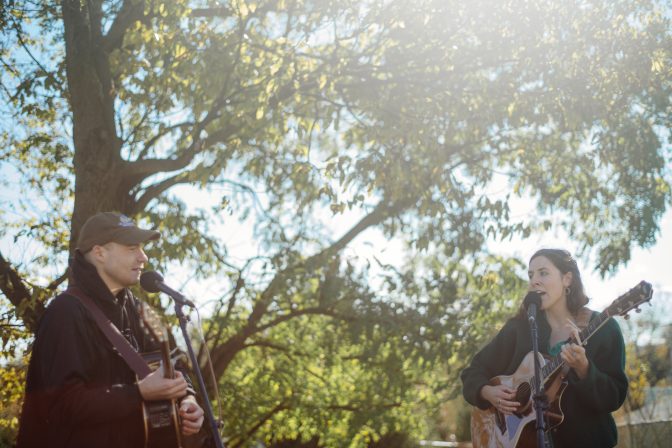 Follow Hollan:
Website: Indie-Folk Singer/Songwriter | Hollan | Harrisburg, Pennsylvania (hollanmusic.com)

View this profile on Instagram
Follow Zach Wood:

View this profile on Instagram