Postscript
Welcome to Postscript! We invite you to immerse yourself in the worlds of your favorite PBS shows! From edge-of-your-seat plot twists to heartwarming relationships, to moments that pique our curiosities – join us to share fresh perspectives, recaps and reactions as we take a closer look into the lives of our most beloved characters! Share your afterthoughts at postscript@witf.org.
---
Listen now on
Or wherever you get your podcasts
---
Episode List
Listen by Show
Postscript | Marie Antoinette
Watch on WITF TV and the PBS Video app, then listen in as Beth Cappello, WITF's Project Manager, and PBS Drama fan, Christina Zeiders, WITF's Communications Specialist, talk about the new PBS show, Marie Antoinette. They'll recap and react to each episode, explore stand-out moments that piqued their curiosities, and invite you to share the pieces you wonder and love about the show. 
Marie Antoinette
Marie Antoinette is just a teenager when she leaves Austria to marry the Dauphin of France. At Versailles, under the complex rules of the French court, she suffers from not being able to live her life the way she wants, under pressure to continue the Bourbon line and secure the Franco-Austrian alliance.
Hosts
Christina Zeiders is a lover of French food. To channel a French mindset for Marie Antoinette, she's increased her intake of crêpes, brioche, baguettes and croissants (which blend French and Austrian baking techniques). She first learned about the Marquis de Lafayette from the Broadway musical Hamilton, and about Marie Antoinette from Sophie Coppola's 2006 film starring Kirsten Dunst. She prepared properly for Postscript by watching Lucy Worsley's Royal Myths & Secrets: Marie Antoinette: The Doomed Queen on the PBS app.
She apologizes in advance for the crimes against the French language she will undoubtably commit while recording this season of Postscript. She wanted to take French in high school, but her mom talked her into taking Spanish.
---
Beth Cappello is excited to dive into the world of Versailles for Marie Antoinette. She can't wait to see how far they explore the timeline and is excited to learn more about the histories from behind- the-scenes research and by watching the show.
Postscript | Tom Jones
Postscript: Tom Jones introduces two new podcasts hosts – WITF's VP & Chief Audience Officer Fred Vigeant and VP & Chief Digital Officer Matt Wilson. They'll talk about their favorite moments and invite you to share the scenes that made you laugh or wonder, too.
Watch on Mosaic
Tom Jones
One of the greatest novels in the English language comes to MASTERPIECE in a four-part adaptation of Henry Fielding's Tom Jones, giving a new twist to the tale of an illegitimate young man's love for a beautiful heiress. Solly McLeod (House of the Dragon) stars as Tom, with Sophie Wilde (You Don't Know Me) as Sophia, the object of his infatuation and Hannah Waddingham (Ted Lasso) as the iconic seductress Lady Bellaston. The stellar cast also includes James Fleet, Shirley Henderson, Alun Armstrong, Pearl Mackie, and a torrent of other talent, bringing mid-18th-century England to life in all its passion and prejudice, luxury and loose morals.
More from Postscript
Postscript | All Creatures Great & Small
Watch All Creatures Great and Small on the PBS Video app, then listen to Postcript All Creatures wherever you get your podcasts. Hosts Beth Cappello and Christina Zeiders share personal stories, their love of the series and take a closer look at the world of Darrowby as they recap and react to the first 3 seasons.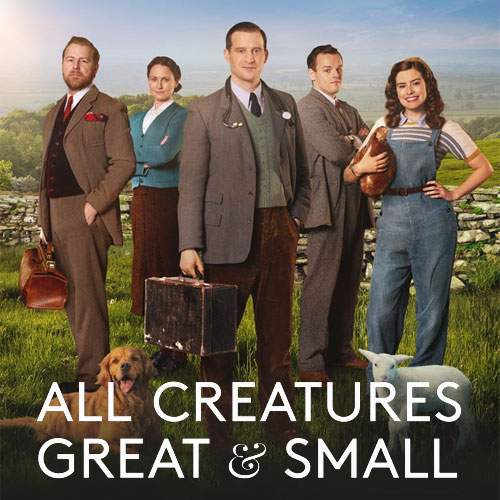 All Creatures Great & Small
Scottish actor Nicholas Ralph stars as veterinarian James Herriot at the start of his storied career in rural 1930s Yorkshire. Co-starring are Samuel West, Anna Madeley, Callum Woodhouse, and Rachel Shenton – plus an engaging cast of horses, cattle, dogs and cats. The series is an adaptation of Herriot's bestselling memoir and a reimagining of the popular drama that aired on British and American television from 1978 until 1990.