WITF Remembers Two Central Pennsylvania Jazz Icons
Ronnie Waters and Byron "Jimmy" Wood were integral to the jazz scene in Central PA.
Central Pennsylvania will surely feel the loss of two jazz legends from the area. Ronnie Waters passed away in February 2022 and Byron "Jimmy" Wood in November of 2021.
In 2020, WITF teamed up with Central Pennsylvania Friends of Jazz to document the stories of a few local jazz musicians. In-depth interviews with Waters and Wood led to video and audio recordings of the two music icons talking about jazz music, the history of jazz in central Pennsylvania and the future of the genre.
"Jazz is when it's really coming from you fresh. You can play the same tune three days in a row and three days in a row it'll be different. And that's what it should be," explained Wood. "It's a way of being creative … the creativity is spontaneous. So, it's not a prepared thing, or when it is it's not really jazz."
Waters was born in Harrisburg and remembered his early days as a musician fondly.
"My mom and my dad were my greatest fans … My mother, I think all the records that she had in the house were jazz. That's the only thing I heard," remembered Waters. "My father had an old Cavalier trumpet. And the reason why he gave it to me was because he didn't want me playing drums … too loud. So, I started taking trumpet lessons at nine years old."
Once Waters learned to read music, he said he would invite anyone with an instrument to his house where they would rehearse a few times a week. That's where he first met Wood.
"He came over to my house to learn piano. I would help him, but I think he came over here most of the time just to eat … and my grandmother used to try to send him home," chuckled Waters.
Wood was born in Philadelphia and moved to Harrisburg as a young boy. He also remembered being drawn to music at an early age.
"When I was tall enough and could stand long enough to reach a keyboard, I would be plunking on keys. And I could find melodies even very early … I don't even want to say it grew on me. It was almost innate," remembered Wood.
Wood recalled Waters playing piano for his mother, Marjorie Alexander Wood, a jazz musician and leader of Marj and the Majors.
"My mom used him … as a musician and in some of her groups that were performing locally," remembered Wood. "That's when I first got to know a lot more about Ronnie, when he would play with her."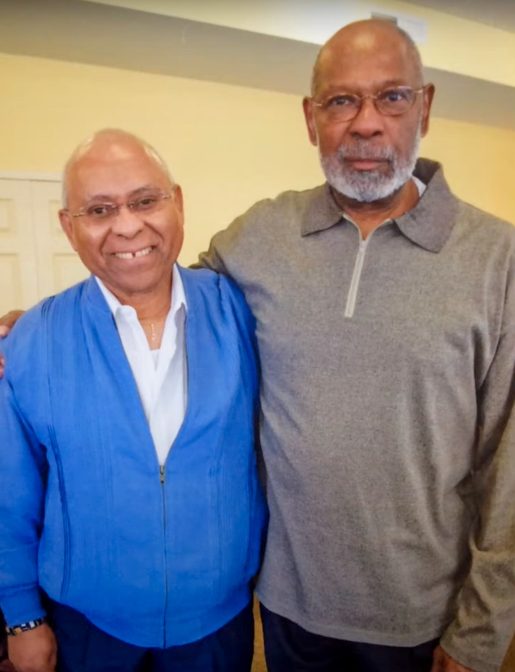 Waters and Wood would continue to share a love of jazz and often a stage for the rest of their lives. And off-stage their friendship continued.
"Jimmy is … he's just a great person, you know, all around, you know," Waters remembered. "He's a great friend."
When asked about Waters, Wood chuckled.
"The knucklehead Ronnie? How would I describe him? I describe him as a very reliable, straightforward, good friend. Very sharing. Whatever he has he gives it up … he's a very warm, very sharing guy."
When asked about the future, both musicians talked about music's ability to unite, and hoped it would do just that for younger generations.
"I can't imagine life without music. I can't imagine life without music for anybody in the world," said Waters. "Period."
"I think music would be one way to continue to break down these barriers … and say, wait a minute, you know, ain't nobody gonna be here but so long. So why are we scuffling unnecessarily over nothing," said Wood. "You know, let's sing a little bit, play a little bit and try to fix up what's broken."
WITF worked with Waters and Wood in August 2020. Interviews and performances were featured in the program WITF Music: Central Pennsylvania Friends of Jazz.