When the State Stopped: A look back at how Pennsylvania arrived at a new normal during the coronavirus pandemic
February 26th was the first time the state Health secretary uttered the word "coronavirus."
(Harrisburg) — The past three months have been unprecedented in Pennsylvania, due to the coronavirus pandemic.
Schools were closed.
Businesses were shut down.
And people were ordered to stay home.
It all happened rapidly once COVID-19 made its first appearance in eastern Pennsylvania.
Here's how it all unfolded:
Feb. 26
State Health Department Secretary Dr. Rachel Levine held a press conference to discuss a topic that was slowly creeping into the public's consciousness: the potential arrival in Pennsylvania of COVID-19, a highly contagious virus.
"It seems to be more communicable than influenza and it seems to lead to a higher fatality rate than influenza," she said, adding that older people and those with others serious medical problems are those most at risk for serious complications.
At that point, only 57 people across the country had tested positive and no one had died.
March 3
Levine was back before journalists — via teleconference — to announce her department would begin testing for people who may have the coronavirus.
The number of cases in the U-S? One hundred, with nine deaths in the state of Washington.
March 6
The coronavirus arrived in Pennsylvania.
An adult in Wayne County and an adult in Delaware County tested positive. Gov. Tom Wolf quickly declared a disaster emergency — and called on the state legislature to pass a proposal to allow him to declare a public health emergency.
March 9
At a meeting at Penn State Hershey Medical Center, school districts asked for guidance on when to start limiting public meetings or canceling classes.
Dr. Cynthia Whitener, an infectious disease expert, scanned the crowd of more than 60 people and offered a warning:
"I was uncomfortable as I sat here and looked at everyone together, and what we're all touching," she said. "In fact, we're discussing at the medical center whether we should continue to have gatherings."
Paramedic Julia Hanson in Dauphin County warned that first responders could face a potential shortage of supplies. They were worried about not having things like protective N95 masks — and how that could lead to more people getting sick.
March 10
Pennsylvania's largest city had its first case confirmed.
At least nine school districts across the state canceled classes — at least temporarily — and the term "community spread" entered the lexicon.
That's when an illness can't be traced back to one person — but rather, is being widely distributed in public spaces.
The virus crept into Bucks County and St. Patrick's Day parades were canceled in Harrisburg, York, Philadelphia, Scranton and Pittsburgh.
March 12
The city of York declared a disaster emergency
"This declaration in no way shuts down the City of York," Mayor Michael Helfich announced. "We are open for business. We're just taking precautions."
Gov. Tom Wolf moved to close schools and other facilities in Montgomery County.
Of the state's 22 cases of COVID-19, the county of more than 800,000 people had more than half of them.
At this point, counties preparing for the April 28th primary started to think about stocking voting areas with hand sanitizer and disinfectant wipes — if not outright moving precincts.
No one was discussing moving the date of the primary — at least not yet.
March 13
This was the day when the pace of developments quickened.
First, Gov. Wolf announced Montgomery County schools would be closed for two weeks.
Then, he shut down the state Capitol to visitors.
"My hope is that we've taken actions that are both decisive and absolutely appropriate," Wolf said. "I know that some of you are worried, but we believe that, by asking everyone to cooperate and spend a few days limiting their interactions with other people, we can help control the spread of this virus in Pennsylvania."
By noon, another six cases of the coronavirus surfaced in eastern Pennsylvania — bringing the total in the state to 28.
More schools closed — including in some districts in Berks, Lancaster and York counties — and the first child in the state tested positive.
The first cases in central Pennsylvania also surfaced.
All schools closed next.
About 1.7 million Pennsylvania students were sent home — initially, for the next two weeks — to prevent the spread of coronavirus.
The move to close schools led to many logistical challenges for families and businesses.
Aishah Holiday, the day care director at Al-Madinah, said she got a note from the state around 6 p.m. ordering her to close.
"I had parents on my phone at 4:30 a.m. [Tuesday]," Holiday said. "Because they had to go to work … I really wish the communication had been a little better."
A new front to slow the spread of the coronavirus in Pennsylvania was opened.
March 16
The governor ordered all restaurants and bars in Allegheny County and the four counties ringing Philadelphia to close their dine-in facilities — a day before one of the busiest bar nights of the year — St. Patrick's Day.
A few hours  later, the governor did something unprecedented.
Asking Pennsylvanians to "stay calm, stay safe, and stay home," he ordered all non-essential businesses across the commonwealth to close at midnight.
It's the kind of thing that only happens when a huge winter storm blasts through the commonwealth.
"This isn't a decision that I take lightly at all," he said. "It's one that I'm making because medical experts believe it is the only way we can prevent our hospitals from being overwhelmed by patients."
Places like medical facilities, grocery stores and gas stations were considered essential and would remain open.
Bars and restaurants were allowed to continue takeout service.
People flocked to grocery stores and soon left shelves bare — especially when it came to things like toilet paper, hand sanitizer and disinfectant wipes.
The body blows to Pennsylvanians' way of life landed in rapid succession.
Over the course of one day, the entire state essentially shut down.
At this point, the state Department of Health showed an official total of positive tests at 63 — including five in Cumberland County.
Suddenly, health care workers were scrambling.
Hospitals drastically limited the use of key protective gear out of fears a dramatic increase in coronavirus cases could diminish reserves and cause a dangerous shortage.
"If we don't protect ourselves appropriately, and become infected and don't realize it, then just like any other person, we can transmit the disease to others as well," said Dr. Arvind Venkat, president of the Pennsylvania College of Emergency Physicians.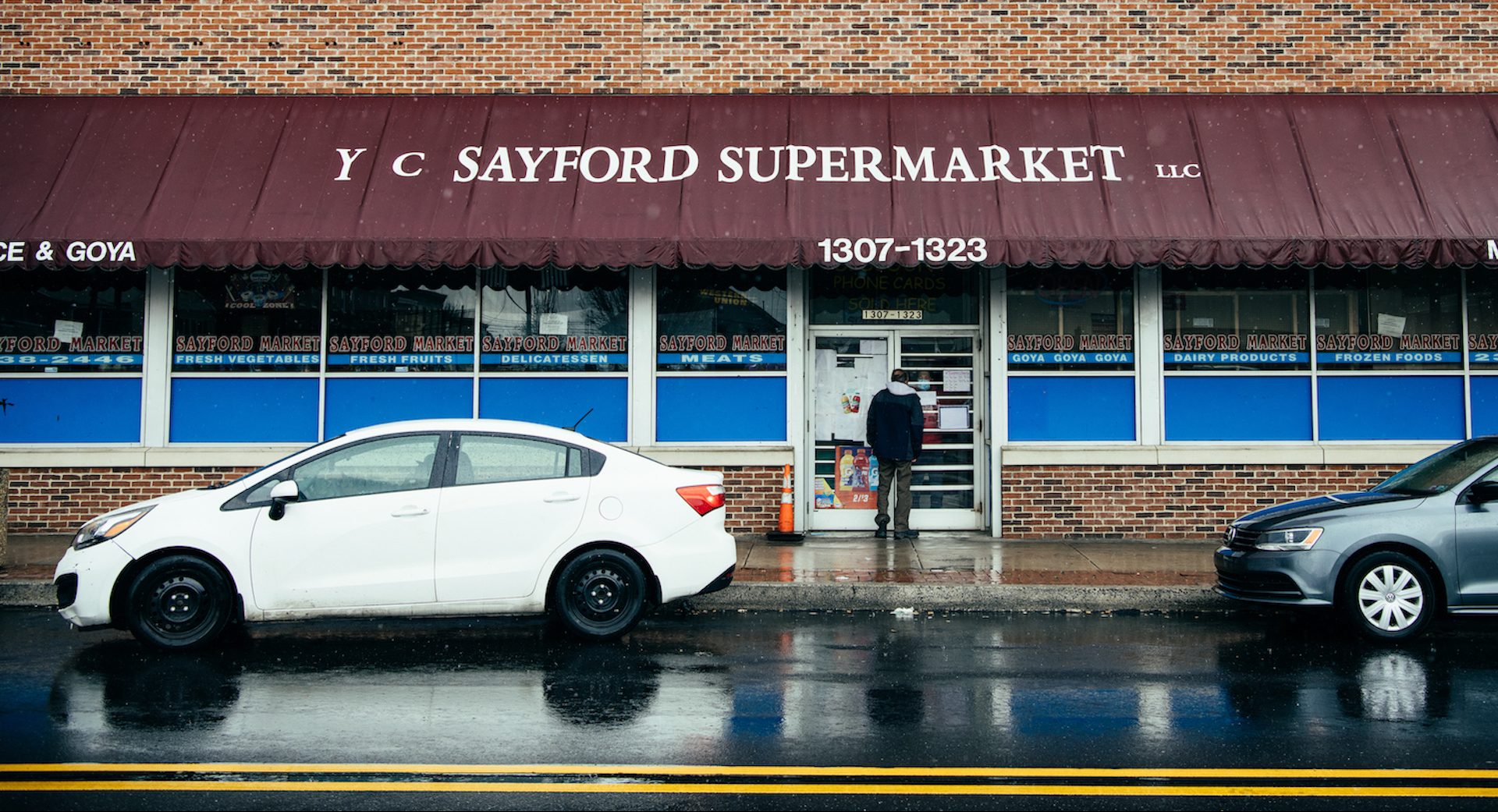 At the Sayford Market in Harrisburg, an employee tells a customer through the glass that they're closed for the day.
March 18
The state reported its first death from COVID-19, an adult from Northampton County.
Speaking via a live-streamed video from his home in York County, Gov. Wolf urged people to just stay home.
"Today's is just the first death of what will become many, and our only hope is to keep our hospitals from being overwhelmed so our medical professionals can do the most they can."
March 19
The number of cases jumped 40 percent to 180.
Over the course of two days, almost 125,000 people filed for unemployment following Wolf's order for nonessential businesses to shut down.
With some operations still open, the governor directed the state police and other law enforcement agencies to enforce an order that all businesses considered "non-life-sustaining" close their physical locations.
"I had hoped for voluntary compliance, so our public safety officials could focus on the crisis," he said. "Unfortunately, we have not seen full compliance."
March 23
At this point, the spread of COVID-19 in Pennsylvania turned lawmakers' attention to the April 28 primary and the possibility of postponing it.
Meanwhile, churches wrestled with how to move forward with Sunday worship.
Some Christian congregations in Northeast Pennsylvania came up with a creative solution: services at a drive-in movie theater.
"We were made for community," said administrative pastor Dwight Addington. "We were made for a community with God and with others as well. So this gives that kind of an opportunity, while at the same time being as safe as we possibly can."
March 24
Delaware County reported its first two coronavirus-related deaths, the latest toll in the hard-hit southeastern part of Pennsylvania.
The victims were an 85-year-old man and an 86-year-old woman.
The governor moved to slow the spread by ordering residents of Lehigh and Northampton counties to join eight other counties' residents in staying home, with few exceptions.
The 10 counties under stay-at-home orders account for half of Pennsylvania's 12.8 million residents.
March 25
In any normal year, a move to delay the state's primary would be the lead story for days.
Not in the era of COVID-19.
A month and three days from when voters would head the polls, a bill to push back the date until June 2nd went to the governor's desk.
The state Department of Health confirmed coronavirus cases increased by one-third to 1,127, with 11 deaths statewide.
Grocery store workers were group at the highest risk off contracting the coronavirus.
But, how they handled that stress varied.
PA Post's Joseph Darius Jaafari spent a night with workers at Karns Quality Foods in Lemoyne Cumberland County, to document those anxieties, and came out with a bit more nuanced of a story.
Watch the documentary:
March 26
More than 15,000 businesses and organizations asked the state to allow them to continue operating amid the pandemic in Pennsylvania.
The Wolf administration did not release the names of  those who asked for a waiver.
"I want to be as open and transparent as I can," Wolf said. "I also don't want to make this process subject to all kinds of pressure that might make it work less well than I think it should."
About 380,000 Pennsylvanians filed new unemployment claims in the last week.
March 27
Nine more counties in Pennsylvania were placed under a stay-at-home order in response to the coronavirus outbreak, bringing the total to 19.
Gov. Wolf's administration added Berks, Butler, Lackawanna, Lancaster, Luzerne, Pike, Wayne, Westmoreland and York counties to the list.
Health Secretary Levine said it is too early to say how effective the orders have been at slowing the spread.
"They haven't been in place long enough," she said. "It'll take weeks and weeks to see the effect. What we're looking for is a consistent plateauing and eventually a decrease in the number of new cases that we are seeing."
The restrictions were to last until April 6.
A 30 percent jump in positive cases brought the statewide total to more than 2,200.
Six more deaths were confirmed brining that total of 22
March 30
The state Department of Corrections announced the first inmate to test positive for the coronavirus, at SCI – Phoenix in Montgomery County.
Four more Pennsylvanians died from COVID-19 complications — including the first in Bucks and Lawrence counties, the second in Lancaster County and third in Monroe County.
By the end of the day, Wolf expanded his stay-at-home order to four more Pennsylvania counties and extended the length of the order through at least April 30.
Carbon, Cumberland, Dauphin and Schuylkill counties were added to the order, bringing the total to 26 counties.
The governor also removed any potential timeline for reopening schools and non-life-sustaining businesses across the commonwealth.
"Now I'm going to leave the date indefinite," he aid. "We're going to keep our schools and businesses closed as long as we need to keep them closed to keep Pennsylvanians safe. Right now, it isn't safe."
March 31
At the beginning of the day, the stay-at-home order applied to 33 counties until April 30.
Then the governor placed the entire state — all 67 counties — under an order to stay at home, dramatically expanding the geographic footprint of the quarantine.
"Please assume everyone has the virus, including yourself. Avoid leaving your house like someone's life depends on it, because, ultimately someone's life does depend on it."
Coronavirus infections continued to rise dramatically across the state.
Nearly 1,000 new confirmed cases were reported today, bringing the state total to more than 5,800. There were 11 new deaths for a statewide toll of 74.
April 1
Thousands of businesses in Pennsylvania had received special approval to stay open amid the coronavirus outbreak.
Advocates for victims of domestic violence warned staying at home can be extremely dangerous.
"We just had one of our residents say how relieved she was that she and her children were in our shelter during this time," said Nicole Molinaro, president and CEO of the Women's Shelter of Greater Pittsburgh. "She can't even imagine the violence that she'd be experiencing if they were at home with their abuser right now."
April 3
Wolf urged Pennsylvanians to wear a cloth mask in public to help slow the spread of the coronavirus.
He also asked religious leaders to consider alternative services for upcoming holidays, instead of holding in-person gatherings.
April 8
Twelve percent of Pennsylvanians filed for unemployment during the second half of March. That's the highest share nationally in the economic shutdown aimed at containing the spread of COVID-19. The state's unemployment system was overwhelmed — with jammed phone lines and an online claims portal that crashed multiple times.
People who provide essential services changed the way they interact with others to minimize risk during the COVID-19 pandemic.
April 9
The Department of Corrections canceled inmate visits at state prisons indefinitely as a result of COVID-19.
Corrections Secretary John Wetzel said there were seven cases confined to one state prison, but the DOC was continuing efforts to mitigate the virus's impact on the system. Inmates are allowed video visits and are getting additional free phone calls and emails.
Pennsylvania schools officially are shuttered for the rest of the academic year because of the coronavirus pandemic. The state education secretary signed the closure order. It meant children would spend the rest of the academic year learning remotely.
Pennsylvania confirmed nearly two thousand new cases of the coronavirus — the 16th straight day in which new cases exceeded the previous day's count.
The state had more than 18,000 confirmed COVID-19 infections and 338 deaths.
April 10
Wolf issued an executive order to authorize the early release of up to 18,000 inmates from state prisons in an effort to minimize the spread of the new coronavirus.
Many people stuck at home during the pandemic are looking for some way to help. Ad-hoc, socially distant armies are rising up around the midstate to make face masks for frontline health care workers.
"I wanted to help because it was my way of kind of finding control in a scenario that no one's been prepared for," said Amanda Campbell, who runs the group dubbed "Operation Face Mask."
April 14
Multiple legal scholars said it's up to states to decide when to reopen their economies once the coronavirus outbreak is under control — despite a tweet by President Donald Trump stating it was the federal government's call. The governors of seven northeastern states, including Pennsylvania, announced a collaboration on such an approach.
Partisan tensions grew at the state Capitol over the right way to respond to the coronavirus outbreak — with many Republicans hoping to open up more businesses, and Democrats largely urging a more cautious approach.
The State Department of Corrections reported the first death of an inmate due to COVID-19.
The inmate was identified as a 67-year-old serving a life sentence in Phoenix state prison in Montgomery County for a first-degree murder conviction in Philadelphia.
April 15
Pennsylvania counties processed about 283,000 applications for mail-in and absentee ballots — and nearly three times more applicants are from Democrats compared to Republicans.
The state's primary has been moved back to June 2, so the numbers were likely to continue to climb.
April 17
A number of Black doctors in Philadelphia pooled their resources to perform testing in neighborhoods that they feel have been underserved.
"In Philadelphia, African Americans represent 44 percent of the population, but at last check, 52 percent of the deaths," said pediatric surgeon Ala Stanford. "For me, that was unacceptable."
This date was significant in the state's response to the pandemic.
Wolf said it was time to start talking about re-opening Pennsylvania's economy, but he urged residents to continue to take the coronavirus threat seriously.
Lifting restrictions put in place to stop the virus would require an adequate amount of personal protective equipment, the governor said. But he didn't say how much exactly, or how much greater the state's testing capacity needs to be.
"What do we need to make sure that each of the 12.8 million Pennsylvanians is comfortable going back to work, or going to a store or going to a restaurant. Those are the things we have to decide, we have not yet, but we will."
The COVID-19 death toll rose by 49 to 756
Statewide, more than 29,400 people have tested positive, according to the latest statistics.
April 20
New coronavirus safety measures went into effect at essential businesses in Pennsylvania: business owners must provide employees with face masks and limit the number of customers inside at a time to 50 percent of capacity. Customers are also asked to wear masks and risk being denied entry if they don't.
Defying Democratic Gov. Wolf's ban on public gatherings due to the coronavirus, hundreds of people from around Pennsylvania — and outside the state — rallied at the state capitol Monday.
The event was organized by an Ohio-based activist, but Republican state lawmakers joined the effort, tying it to legislation aimed at reopening businesses.
April 21
Wolf said regions of Pennsylvania that have a relatively low number of confirmed cases of the new coronavirus might be able to reopen "in a fairly robust" way on May 8.
He said he intends to loosen restrictions on people and businesses in much the same way they were imposed: Gradually, and county by county.
April 22
New guidance from Wolf meant people who live in northwestern and northcentral Pennsylvania could see many coronavirus restrictions lifted beginning May 8.
The governor also said construction can now resume statewide on May 1st, one week earlier than he previously announced.
Statewide, more than 35,600 people have tested positive — including more than 61-hundred in the midstate.
April 26
Across the midstate, deaths from COVID-19 vary widely from county to county.
Outbreaks in nursing homes and deaths among older people drove high numbers in some counties.
April 28
Farming and food production were considered essential businesses during the COVID-19 shutdown. But it wasn't business as usual for Pennsylvania's growers and producers.
Farms that sell direct to consumers were seeing a boom in business, while farmers relying on industrial supply chains were often finding themselves left in a lurch.
April 29
A state prison in Huntingdon was the main contributor to the county's COVID-19 cases.
At SCI Huntingdon, 33 staff and inmates tested positive for the coronavirus.
May 6
Nursing and personal care homes in Pennsylvania were among the hardest hit communities.
State Health Department numbers showed the death toll at such facilities at more than 23,000.
Pennsylvania reported below 1,000 new cases of the coronavirus for four straight days — the longest such streak since the daily reports of new cases first reached four figures in early April.
Health Secretary Levine called the dip "good news."
May 8
Twenty-four northern Pennsylvania counties moved into the "yellow" phase of Wolf's reopening plan. Many businesses in those counties were allowed to operate again.
McLusky Showcase Kitchens & Baths in Lawrence County laid off 16 of its 17 employees during the shutdown. Director of Operations Jim McLusky said they were bringing people back in stages.
"You don't know if your customers are going to come back or what they're thinking," he said. "If they're … frightened by the unknown, and are they going to put off that project that they were planning to do … for a year or two?"
Daycares also reopened, but some said they were uncertain when families will be ready to come back.
Later in the day, the governor moved 13 counties in the southwestern part of the state into the yellow phase — to take effect on May 15.
But, he also extended the stay at home order to June 4 for counties that remain in the red phase – including the entire midstate.
But, Beaver County commissioners expressed anger their county was not included in the yellow phase order, due to an outbreak of COVID-19 at a nursing home.
They and several other county commissioners across the state declared they would consider themselves to be in the yellow phase on the 15th, regardless of the governor's announcement.
Under pressure from Republican state lawmakers, the Wolf Administration released a list 0f 'life-sustaining' businesses that received waivers from the state's coronavirus shutdown order.
The state received nearly 43,000 applications for the waivers and granted more than 6,000.
May 10
The string of days with fewer than 1,000 new reported cases of the coronavirus didn't last long.
After a brief dip, the Health Department reported a fourth consecutive day with new cases above the 1,000 mark.
May 11
Facing a rebellion of sorts in several counties, Wolf struck back — calling those planning to reopen while still in the red phase of the coronavirus shutdown "selfish" and unsafe.
He warned they would put their discretionary funding at risk. Businesses could potentially lose things like licenses, and certificates of occupancy if they open without permission.
Noting the commonwealth showed early signs of success in flattening the curve, he said now was not the time to give up on mitigation practices.
May 12
A growing number of counties told the governor they planned to ease coronavirus-induced business restrictions without his permission.
It appeared legal precedent was on Wolf's side Scott Burris, who directs Temple University's Center for Public Health Law Research, said he thinks counties don't have the authority to go against the governor. But he added that doesn't mean counties can be pushed to enforce state restrictions.
"The state emergency powers law doesn't actually say anything about forcing lower governments who don't wish to comply, to comply," he said. "I don't think it ever occurred to somebody writing one of those laws that counties would act this way."
At least one Republican county commissioner took heed.
Gary Eichelberger, chair of the Cumberland County Commissioners, said according to his legal counsel, Wolf has every right to do that. Eichelberger said state lawmakers from his area tried to intimidate county government into reopening.
What comes next
Over the next several months, people across the commonwealth will slowly try to return to "normal" — by going back to work, re-opening their businesses, trying to piece together a summer vacation and maybe even eating out a restaurant. But, the impacts of the coronavirus will be felt — most likely — for years to come.
With a presidential election looming in November, questions remain over whether the state will experience a second wave of infections, will the unemployment picture improve significantly, and if children will be learning in the physical or virtual classroom in the fall.