Harrisburg students create social justice quilt displayed at MLK Government Center
Airdate: August 4, 2022

A class of Harrisburg third grade students created a Social Justice Identity Quilt last year with hopes to bring awareness and make a change.
This year the quilt, which was created by St. Stephen's Episcopal School students, has been displayed at the Rev. Dr. Martin Luther King, Jr. City Government Center, 10 N 2nd St.
The quilt consists of fabric squares, where each child depicted themes around identity and social justice. The quilt consists of phrases, that were written with fabric markers, like "Black Lives Matter", "God is good", "peace",  "be kind", and "be your best self."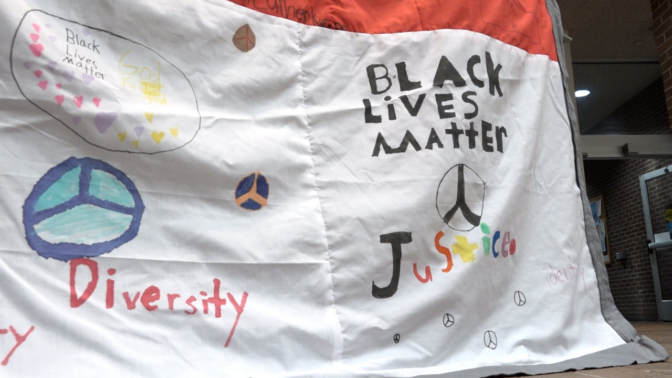 JoAnn Baldwin, a third grade teacher at the Episcopal school, called the class who participated in this project, the "change makers" which set the tone before they were even put to the task.
Baldwin said she hopes the quilt helps to resolve social justice issues by prompting people to make changes in their world.
"I'm hoping they will read what is there, look at the drawings, and say this is coming from a nine year old; what can I do as an adult to make a change?," Baldwin said.
She also said she'll miss the class of students that created the quilt but she's looking forward to meeting her new class of third graders and giving them a name that will hopefully propel positivity and change.
The quilt is on display in the MLK center atrium and can be viewed from 8 to 4 p.m. Monday through Friday.