There are too few Latino doctors in the US, study finds
Eliminating barriers for immigrant doctors trying to reclaim their careers could be a solution.
Mayerlín Henríquez earned an anesthesiology degree, trained and worked as a doctor for nine years in the Dominican Republic. 
But since moving to the U.S. in 2021, she's been able to get a job only as a nurse's assistant.
Henríquez, of Reading, is not able to practice medicine at the same level she used to in Santo Domingo because of language barriers, and because she does not have the necessary certifications. 
She said she's grateful her job allows her to work with patients, but sometimes wishes she could do more.  
"It is traumatic to know that you had a profession, but you're still not able to do anything if something unexpectedly goes wrong with a patient," Henríquez said. "You have to stay there with your arms crossed."
Henríquez's story is far from unique.
The number of Hispanics working in health professions requiring advanced degrees is disproportionately small given they make up one of the fast-growing segments of the U.S. population, according to recent study from a team of researchers at George Washington University. They are most underrepresented in medical professions that diagnose and treat patients including physicians, dentists, pharmacists and therapists.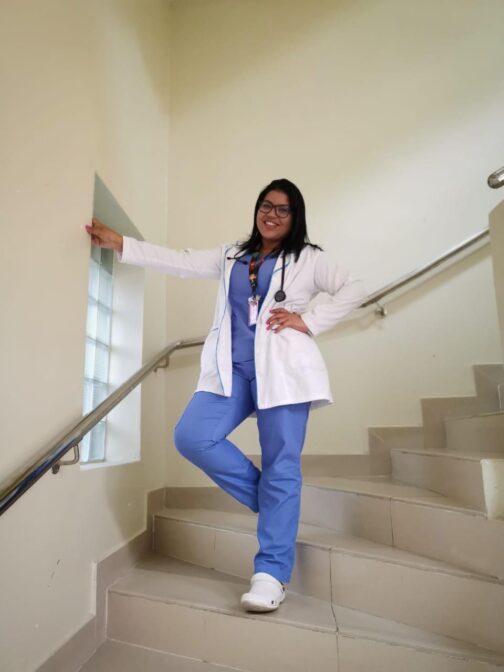 The disproportionately low numbers of Spanish-speaking Latino doctors means there are too few doctors and nurses who can help non-English speaking patients overcome barriers to getting quality health care, experts say. Hispanics already face obstacles based on lack of English proficiency, fear of revealing immigration status and access to health insurance.
Hispanic patients are more likely to seek preventative care with a doctor who speaks the same language and shares a similar cultural background as them, San Diego University researchers have found. 
Preventative care is crucial, given that Hispanic and Black patients are more likely to suffer from hypertension and heart disease. From 2015 to 2018,  52.3% of Hispanic men and 42.7% of Hispanic women ages 20 or older had cardiovascular disease, according to the American Heart Association.
The findings on Latino representation in health fields are based on research conducted by George Washington University's Mullan Institute for Health Workforce Equity, as well as researchers from University of Chicago and the University of Washington. The analysis uses census data from 2016 through 2020.
Having more Hispanic doctors and nurses could help address health barriers that the community faces, said María Portela, co-director of Health Workforce Diversity Initiative at the Mullan Institute for Health Workforce Equity.
Portela said her patients often tell her how difficult it was to find a Spanish-speaking doctor and how relieved they are to have found her.
"It breaks my heart," Portela said. "It doesn't mean that I am the best doctor or anything. To them, they're just happy that I speak Spanish because they can finally be heard. They can finally talk about other issues beyond their blood pressure. They can open up about mental health issues."
Some researchers and health equity advocates say leveraging the skills and experience of underemployed immigrants who worked as physicians in their home countries – people such as Henríquez – would help address underrepresentation and looming staffing shortages in the medical field.
Indira Islas, a fellow at the Congressional Hispanic Caucus Institute and a lead researcher on the study, said her own experiences as a public health graduate student at George Washington University drew her to this research topic. 
Islas immigrated with her parents from Guerrero, Mexico, to the U.S. at age 6. Her parents' sacrifices to give her a better life also inspired her academic work.
"It was very personal to me. My parents were also doctors in Mexico. Unfortunately, they were not able to continue practicing medicine in the U.S.," Islas said. "I wanted to do this for them."
Islas came to the United States under the Deferred Action for Childhood Arrivals program, which has allowed hundreds of thousands of people who were brought to the United States as children to temporarily remain in the country and obtain work permits.
Culturally-compatible mentoring resources at medical degree programs could also help increase the likelihood Latinos in medical school will stay in the field, Islas said. 
"A lot of Latinos in medicine are first generation, so even if you've made it past medical school, navigating residency is like a challenge of its own. Having mentorship from others who have come before us could make a difference," Islas said. 
She said that she did not meet a Latino doctor until she was in college at George Washington University studying to get her public health degree.
In Pennsylvania, there is low representation of Latinos in nursing professions, according to Mullan Institute's workforce equity tracker. Almost 7% of the workforce in Pennsylvania identifies as Hispanic, but only 1.4% work as nurse practitioners or nurse midwives, 2.7% work as registered nurses, and 4.5% are licensed practical nurses.
Rather than treating the category of Latino as a monolith, researchers also looked at subgroups in the U.S. health workforce. They found that Mexican Americans make up 10.7% of the U.S. workforce but only 1.7% of physicians.
However, they are far better represented in personal-care and medical-support professions. Mexican Americans make up almost 18% of medical assistants, 16.6% of dental assistants and about 11% of phlebotomists. 
Puerto Ricans are also underrepresented in medical careers that require advanced degrees, though Islas said the analysis included numbers from only the U.S. mainland and not from the archipelago of Puerto Rico.
Cuban-Americans were the exception. Their share of the physician workforce exceeded their total labor participation. The subgroup represented 0.8% of the country's workforce, but 0.95% of all physicians.
The findings reflect only part of a broader staffing problem in the medical industry. The Association of American Medical Colleges projects that there will be a shortage of about 17,800 to 48,000 primary care physicians by 2034.
Meanwhile, some immigrants with advanced medical degrees from other countries are underemployed and face barriers getting the certifications needed to practice medicine in the U.S. A 2018 report from the American Immigration Council found that slightly more than one-quarter of doctors practicing in the United States are foreign-trained.
Henríquez is working to get certified as a nurse in Pennsylvania as a first step toward reclaiming her medical career. She hopes to complete a nursing program from a Puerto Rican university, which includes a three-month internship at a hospital in San Juan. After that, she plans to take the National Council Licensure Examination, which determines if recent grads from nursing programs are qualified to practice. 
There are no citizenship requirements in Pennsylvania for immigrants seeking nursing licenses or any other occupational licenses overseen by the Department of State's Bureau of Professional and Occupational Affairs.
But a 2021 Department of State survey found that immigrants, refugees and asylees are "disproportionately impacted" by occupational licensure policy in Pennsylvania. Some of the primary barriers they faced were a "confusing" application and poor user experience on the license-application website. 
Applicants were found to have been denied licenses because they used incorrect forms or their foreign education credentials were not accepted as valid qualifications of licensure.
Since the survey, the state has enacted two pieces of legislation aimed at lessening barriers for immigrants seeking job licenses.
Act 16, signed into law in 2022, made the requirements for U.S. and international graduates uniform. Before Act 16 was enacted, international medical graduates were required to do an additional year of residency training, for a total of three years, before they could apply for the same medical license.
Act 22 of 2022 eliminated a provision that required international nursing applicants to hold a nursing certification from another country or state before applying for licensure in Pennsylvania. 
People with medical degrees from other countries are required to take the licensure exams in English. They also need an additional certification from the Educational Commission for Foreign Medical Graduates and must complete a one-year program. After that, they can apply for a residency or a fellowship for foreign doctors.
Other states have taken steps to eliminate barriers for people who have advanced medical degrees from other countries. Tennessee recently passed a law that waives medical requirements for doctors trained outside the United States. In Washington state, foreign-trained doctors who passed the required U.S. exams can get a two-year permit to work as doctors without having to complete a residency.
Time and money constraints are some of the most common barriers that make it difficult for immigrants with prior medical careers to get nursing licenses or the licensing needed to practice as a physician in the United States. 
People who have to work to support themselves and their families might not have the time or money to enroll in an intensive nursing program or study for the exams. Some may not qualify for federal financial aid to pay for a reputable nursing program.
Some medical licensing exams test knowledge of basic sciences, which many people who have practiced as doctors in other countries for years may or may not remember.
"It may have been four or five, 20, 30 years since they've studied this basic, basic information," said María Portela, chief of the university's Section of Family Medicine and co-director of the Mullan Institute for Health Workforce Equity.
"So it's tough to really have to find the time to study all this information, train in another language against time to get a sufficiently high score to be approved to apply to a residency program." 
Daniel Weber, who founded the International Healthcare Professionals Program at the Literacy Council of Lancaster-Lebanon in 2016, said many doctors in his program are training to become medically certified and have families to support and other jobs to help pay the bills.
"You have to be super focused," Weber said. "Ideally, you should have a supportive network, including a supportive family." 
He added that often, when two doctors are married to each other, they have to decide who is going to pursue education full time while the other focuses on taking care of children and handling financial responsibilities.
These are the kind of decisions on Henríquez's mind right now. She says her husband has the means to support her while she studies and does her nursing internship in Puerto Rico. But she wants to find out if the clinic where she works will allow her to take some time off to pursue her nursing degree.
"If they won't accept that, I still have to do something," Henríquez said. "I can't just base my decision on whether I'll lose my job. I have to sacrifice."