Updated: June 6, 2023 | 9:44 am
WITF Celebrates Pride All Month Long
An earlier version of this article listed the start time for American Experience: Casa Susanna as 8pm, PBS has since updated the start time to 9pm. That change is reflected below.
WITF is celebrating Pride all month with premieres from American Masters, Independent Lens, and American Experience on WITF TV. There are even more programs available to stream – for free and with WITF Passport – through the WITF or PBS app.
Watch on WITF TV
Friday, June 2 at 9pm: American Masters: Little Richard: The King and Queen of Rock and Roll explores the meteoric rise and lasting legacy of Little Richard. The special re-airs on Sunday, June 4 at 11am, but you can also stream Little Richard on demand for free June 3 – July 1 using the PBS or WITF app.
Saturday, June 3 at 10pm and Thursday, June 8 at 9pm: True Colors: LGBTQ+ Our Stories, Our Songs features music from Indigo Girls, Billy Gilman, Morgxn, Peppermint, Jujubee, Alexis Michelle, Trey Pearson, Breanna Sinclaire, Andre de Shields and more along with real-life stories of hope. True Colors is available to stream any time with WITF Passport.
Friday, June 16 at 9pm: Unidad: Gay & Lesbian Latinos Unidos shares the story surrounding the founding of Gay and Lesbian Latinos Unidos (GLLU) in 1981, only a dozen years after Stonewall and a couple of years before the HIV/AIDS pandemic began to ravage the LGBTQ+ communities.
Tuesday, June 20 at 9pm: Prideland follows queer actor Dyllón Burnside as he journeys across the American South to meet diverse members of the LGBTQ+ community to hear how they are finding ways to live authentically and with Pride. Stream Prideland on demand with WITF Passport.
Tuesday, June 20 at 10pm: Independent Lens: Mama Bears follows several moms who grew up as fundamentalist, evangelical Christians who are risking their relationships with friends, family and faith communities to keep their kids safe. Stream Mama Bears on demand for free starting on June 21 – July 19 on the PBS or WITF app.
Tuesday, June 27 at 9pm: American Experience: Casa Susanna highlights how a community of cross-dressing men found refuge at a modest house in the Catskills region of New York in the 1950s and 60s. At the time, failure to wear "gender appropriate" clothing was illegal across much of the country. Stream Casa Susanna on demand for free June 28 – July 26 using the PBS or WITF app.
Pride Month specials airing on WITF TV are supported by
Mid Penn Bank
.
Watch It Free on the PBS or WITF app
Reel South: Outspoken: LGBTQ West Virginians assert the power and longevity of a small-town queer community. 26m 16s
FRONTLINE: Growing Up Trans: An intimate look at the struggles and choices facing transgender kids and their families. 1h 24m 12s
Afropop: The Ultimate Cultural Exchange: Mama Gloria: Mama Gloria is about Gloria Allen, a 75-year-old Black trailblazing transgender activist. 58m 28s
The First Twenty: Queer Latine Voices at Teatro Pregones: Theater makers reflect on the historic 2003 showcase of LGBTQIA+ Latine playwrights. 31m 21s
Basic Black: The Lives of Transgender Women and Men: Hear about key issues affecting the transgender community. 25m 26s
POV: POV Shorts: Post-Colonial Queer: Stories about the LGBTQ experience around the world. 25m 1s
Independent Lens: Our League: A transgender woman comes out to her old-school Ohio bowling league. 36m 38s
Short on Time?
Independent Lens: Senior Prom: For residents of an LGBTQ+ retirement home, "senior" prom takes on a whole new meaning. 14m 2s
American Masters: Jamaica Heolimeleikalani Osorio: This is the Way We Rise: Jamaica Heolimeleikalani Osorio is a Kanaka Maoli wahine poet, activist, and academic. 12m 16s
American Masters: José Sarria: Legendary Drag Queen and Queer Activist: Sarria dedicated his life to fighting for queer rights and ran as the country's first known openly gay candidate for public office. 5m 52s
POV: StoryCorps Shorts: Hand in Hand: Sissy talks with his wife Vickie about how they forged a new path. 3m 27s
American Masters: Crystal Labeija: The Queen Who Reinvented Ball Culture: Crystal LaBeija was the cause of an iconic moment in drag history that paved the way for house culture, voguing, Paris is Burning, and the TV series Pose. 5m 38s
POV: Muxes: In Juchitán, México, the world is not divided simply into males and females. 9m 44s
American Masters: Julian Eltinge: Female Impersonator of the Vaudeville Era: Discover the story of pioneering American drag artist Julian Eltinge. 4m 45s
American Masters: William Dorsey Swann: The First "Queen of Drag": Swann was the first known American activist to lead a queer resistance group.
American Masters: Gladys Bentley: Gender-Bending Performer and Musician: Gladys became a gender identity pioneer of the Harlem Renaissance, performing at popular gay bars, wearing men's clothing, and openly flirting with women. 11m 51s
If Cities Could Dance: LGBTQ+ Choreographer Amit Patel is Changing Bollywood Dance: Dancer Amit Patel is making space for queer expression in the South Asian community. 6m 55s
PBS Short Film Festival: Kapaemahu: The hidden history of four healing stones on Waikiki Beach, and the transgender spirits. 8m 35s
WITF Passport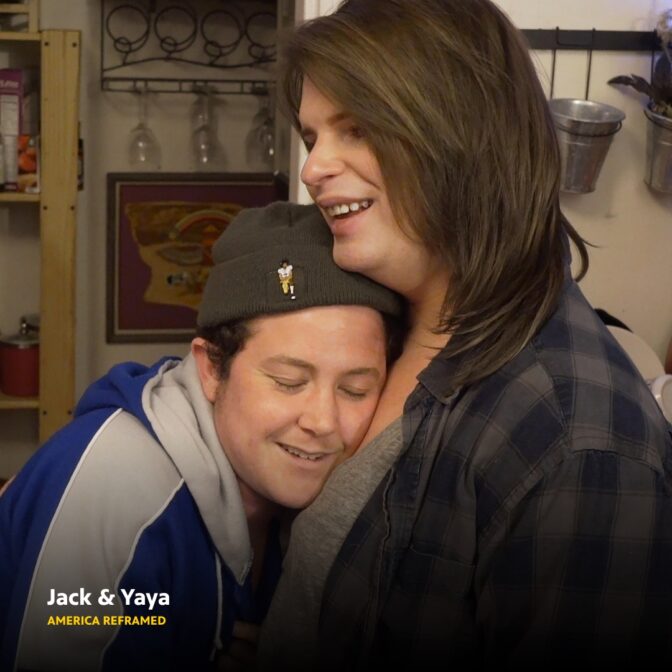 POV: The Gospel of Eureka: A town of Christians and drag queens step into the spotlight to dismantle stereotypes. 1h 10m 39s
American Masters: James Baldwin: The Price of the Ticket: Explores the life, works and beliefs of the late writer and civil rights activist. 1h 25m 19s
America Reframed: Jack & Yaya: Two transgender best friends celebrate their thirtieth year of friendship. 1h 23m 45s
American Masters: Ballerina Boys: Discover The Trocks. Dancing on pointe shoes, these male dancers mix artistry and joy. 53m 26s
American Masters: Terrence McNally: Every Act of Life: Explore four-time Tony-winning playwright Terrence McNally's work in theater. 1h 22m 18s
We'll Meet Again: Coming Out: Watch as those whose lives were changed by the early days of the gay rights movement reunite. 53m 7s