WITF and PNC Foundation host Be My Neighbor Day
Families are invited to celebrate being a caring neighbor, thank neighborhood helpers and meet Daniel Tiger from "Daniel Tiger's Neighborhood."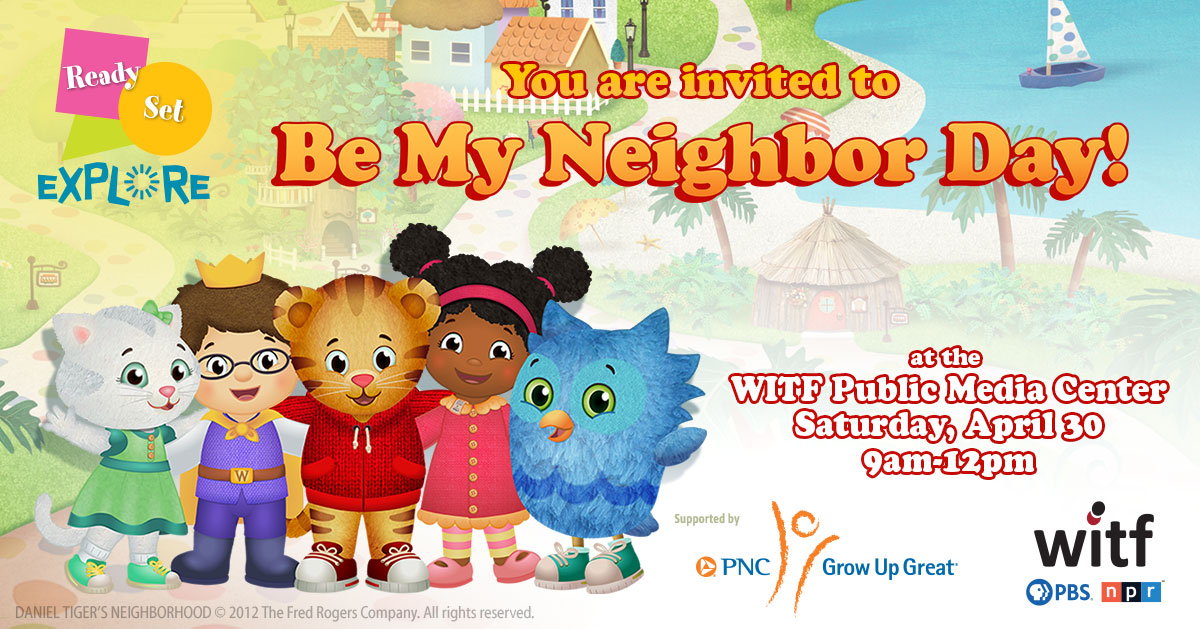 WITF invites the community to celebrate Be My Neighbor Day at the WITF Public Media Center from 9 a.m. to noon, Saturday, April 30. During this free event, families will meet neighborhood helpers, like firefighters, and celebrate what it means to be a caring neighbor.
Special guest Daniel Tiger from "Daniel Tiger's Neighborhood" will be available to meet families and to take photos. WITF encourages families to bring their own camera to capture the moment. Free tickets and reservations for Meet & Greet times are available at witf.org/events.
"Be My Neighbor Day offers neighbors and families a chance to celebrate together, after being apart for so long," said Debbie Riek, WITF director of Education. "It feels wonderful to host an event that brings families together to create, play and celebrate their caring neighbors."
Through the support of PNC Grow Up Great®, each child in attendance will receive a Daniel Tiger cinch bag with activities, crayons and more. Each child will receive two books to take home – one to keep and one to share with a neighbor or friend. This free event features activities that encourage kindness between neighbors, such as drawing pictures to share with retirement communities and creating thank you cards for healthcare workers.
"At PNC, we take pride in our work to strengthen and serve our communities," said Jim Hoehn, PNC regional president of Central Pa. "We are thrilled to work with WITF and Fred Rogers Productions to bring Be My Neighbor Day to Central Pennsylvania and teach our youngest learners what it means to be a caring neighbor."
WITF follows all Department of Health recommendations for events. Masks are encouraged while inside the Public Media Center. Tables will be set up throughout the Public Media Center to give families more space to work on activities and crafts.
"Daniel Tiger's Neighborhood" airs on WITF TV weekdays at 8:00 a.m. and 8:30 a.m. and weekends at 8:30 a.m., on WITFK PBS KIDS 24/7 weekdays at 9:30 a.m. and weekends at 6:30 a.m., and can be streamed on-demand through the PBS KIDS Video app.
This free event will take place at the WITF Public Media Center, 4801 Lindle Rd., Harrisburg, Pa. Families can register to attend the event and reserve their meet and greet time at witf.org/events.
For more information, please contact:
WITF – Christina Zeiders, christina_zeiders@witf.org, 717.805.5058