WITF Music: Indian Summer Jars
Harmony, muses and turning pain into purpose.

"It matters greatly and it doesn't matter at all."
If lead vocalist Sarah Fiore could give her younger self any advice, that's what she'd say.
"I feel like when I was 18 and starting out, I really expected things to happen fast … so if there were any young musicians I were talking to that had a passion [I'd say] 'Know that what you do is very important and it's necessary but don't take that so seriously that you hang on every great show and your worst show.'"
Sarah's band Indian Summer Jars is a midstate folk group that began in 2008. Through the years the music she and her band mates create has evolved from songs to help her deal with emotions into songs to help others. The music has become a form of service through song.
"When I started writing it was a lot of self-oriented themes and my direct experience, whether it was painful or joyful … and I feel like what I've moved towards, and especially in this project, is more service-oriented. So it's like, how can my experience help other people? Turning pain into purpose."
Sarah's band mates are vocalist/percussionist Jenn Hara, multi-instrumentalist and vocalist Jason Whetsone and drummer Kelly McClain, the most recent addition to the band. In the early years there were two part harmonies but now three part harmonies fill the songs, and as Jenn says it took some learning and adjusting as they got to know each other musically.
"It did take a little more work at that time and we were getting to know each other. But I'll say in the last two or three years it's really become quick. It doesn't take us terribly long."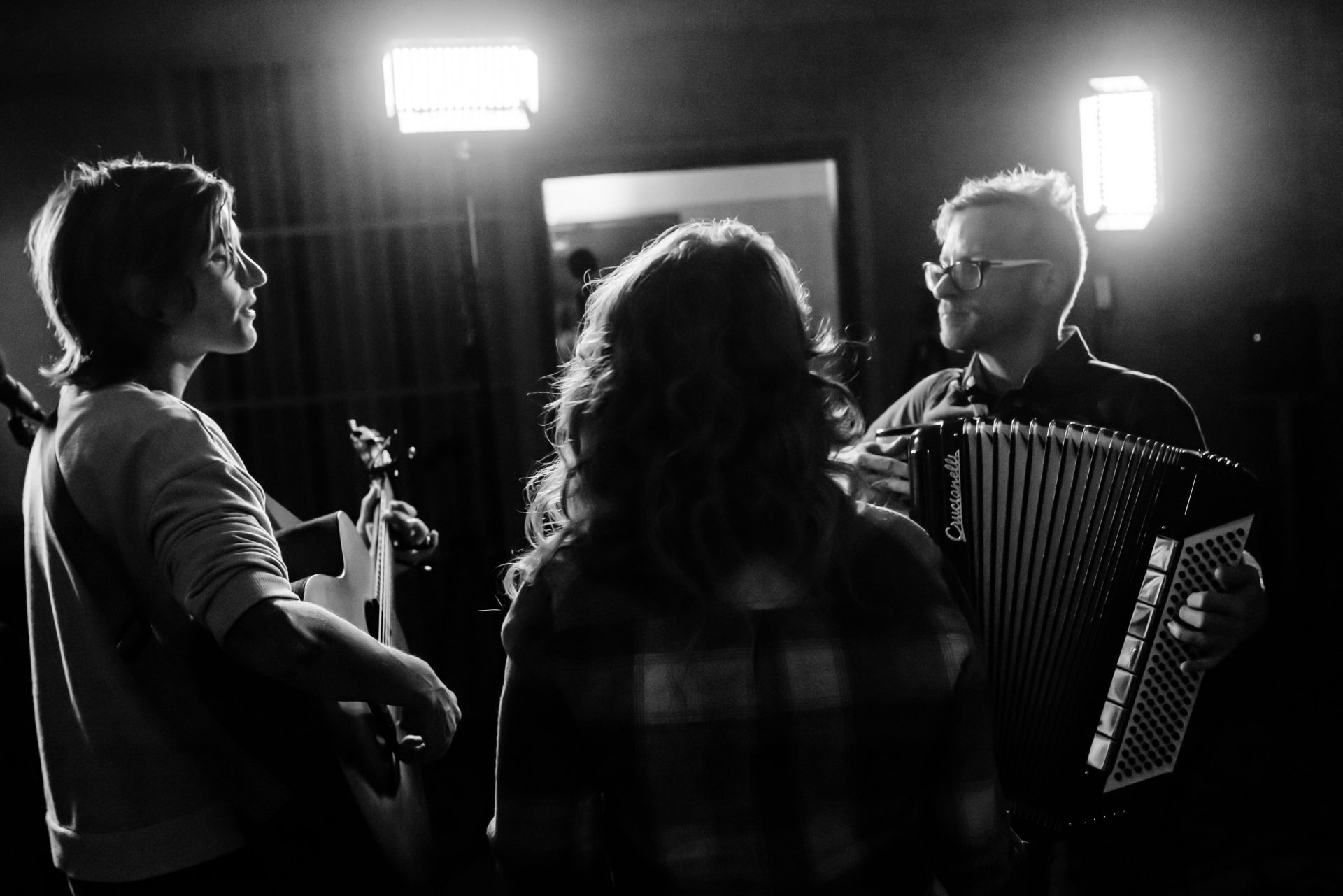 "I think it's the new drummer that helps," says Kelly and everyone laughs.
"Going from the duet to the three part harmony I think is a huge," Jason says. Others chimes in:
"It captures something."
"It's three dimensional."
"It's now a chord," says Jason. "And you can do all kinds of things with a three part chord."
In our studio they played a few songs, one of which is called "Sailing."
"I was having a moment of clarity and gratitude," says Sarah. "I was just having a really hard time with some things. There's a big theme of family in that song and I think that's a thread throughout our music. And there's a line 'Bridges some people don't mind burning/But I was never one to walk away'. That line in particular [is about] moments in my life when I lose faith in the track that I'm on and it's just a little message to myself to trust the process that's happening, even though it might not be showing itself to make much sense in the moment."
How a song comes into being can be difficult to explain. When asked about this, Sarah takes a deep breath and pauses for a moment to consider it.
"I think the closest description to match the feeling that I feel is the muse basically visits, and it's here on earth to visit and find a channel to go through. And you have a really narrow window … So if I am open to it and I've got my guitar in my hand and I allow that to come through … I don't know, I really resonated with that."
"It's channeling," Jenn says.
"It is in a way. It's like I have no active part. I admire people that are like, 'I can consciously sit down and create this.' It's never been that way for me."
However it happens, Sarah takes that song to the band and they all start to build their own parts and harmonies.
Jason has a take on how each member fills a role in the band.
"Sarah's like the heart and I feel like, Jenn, you're like the spirit and I'm the brains and Kelly's the grounding."
"Is this the Wizard of Oz?" Jenn says with a laugh.
"I think it's a really cool relationship we all have," says Jason.