Lancaster Calling: A Music Festival to Benefit Chad Kinsey
The music community rallies round one of their own.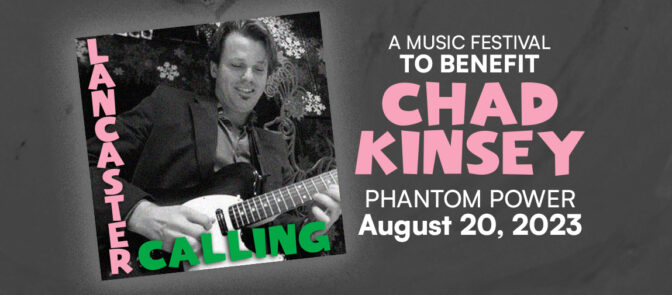 Listen to the audio feature:
It was last fall that Chad Kinsey checked himself into a hospital.
"And it turned out that he had sepsis," says singer/songwriter Jessica Smucker.
"He was in the hospital constantly and they did discover in that process in treating the sepsis that he had leukemia. It was more than a hundred days in the hospital and then was able to go home and started chemo treatments around the end of January."
Chad's situation has stirred the local music scene because of how important he's been to it. One of the projects Chad was first known for was his work as guitarist for the band Burning Bus back in the nineties. Since then, he's played in numerous groups, played on countless local recordings, and has been a staple of the central Pennsylvania music scene, dropping in on shows, providing advice to local musicians and producing local recordings.
"He is one of the most hardworking musicians in this area and Central PA I would say, and in the universe really," says Bobby Gentilo, recording engineer, producer and singer/songwriter.
"And one of the biggest reasons we're all here is because of his work ethic and how much effort he's put towards this scene to make it a better scene for everybody."
One of the things people know Chad for is his critiques of music. He wanted local musicians and the local scene to be the best it can be, and he would provide feedback to help make that happen.
He also brought experience from having dipped his toes into music scenes around the country and around the world.
"Part of a musician's evolution is to challenge yourself in other areas," says Bobby.
"New York, out of the country, Chad's done that. So when he comes to you to tell you something, he's telling you what you're doing is not gonna stand up over there. Maybe it works here, but here it doesn't really matter if it doesn't work there."
Another thing Chad is known for is recognizing people who he thinks should connect with each other. A "connector" as Jessica calls him.
"When he is music directing a show, he's gonna pull people from Harrisburg and Lancaster, the people that he knows are really good, and they're gonna end up in a room together. And sometimes that's how you meet the next guy that's gonna be your guitar player in your band.
John Flavin, lead singer of The Ogham stones, recalls an instance of Chad connecting people.
"One of the biggest compliments I've ever gotten was for Chad to say to somebody, 'Flavin would be good for that'.  He's got the vision and he can pick the people that he knows needs to be doing certain things for people."
With Chad completely unable to work and removed from the local music scene since last September the struggle of hospital bills and lost income will be massive to say the least. And the music scene to which he's given so much now wants to give back.
"We decided to bring it home and do something for somebody who means something to a lot to all of us," says John.
That something has turned into Lancaster Calling, a music festival to benefit Chad.
"It'll be on Sunday, August 20th at Phantom Power in Millersville. We're going to have two stages. There is going to be an outdoor stage, and then the indoor stage, the main stage. Gates will open at noon and the first band will kick off outside at 12:30."
"We're also going to be doing a pretty sizable raffle. The response from local businesses, artists and individuals to donate has been incredible."
"The other part of this whole thing is the physical thing is horrible, the pain," says Bobby.
"But the mental aspect … you're vibrant, the things you've worked so hard for are working and then everything's gone. We want him to see how many people care about him and the efforts he's put into this community. We want there to be some payback for it. He just means a lot to us."
Chad Kinsey has given a lot to the central Pennsylvania music community and what goes around comes around. This time it's the music community coming around for one of their own.
Lancaster Calling: A Music Festival to Benefit Chad Kinsey
When: Sunday, August 20, 12pm-10pm
Where: Phantom Power, Millersville
Tickets: Lancaster Calling – A Music Festival to Benefit Chad Kinsey Tickets, Sun, Aug 20, 2023 at 1:00 PM | Eventbrite
GoFundMe: Fundraiser for Chad Kinsey by Todd Palmer : Chad Kinsey Assistance Fund (gofundme.com)
More info: Lancaster Calling Music Festival benefit for Chad Kinsey