Contest Ends: September 22, 2023
Win a Pair of Tickets to See Henry Rollins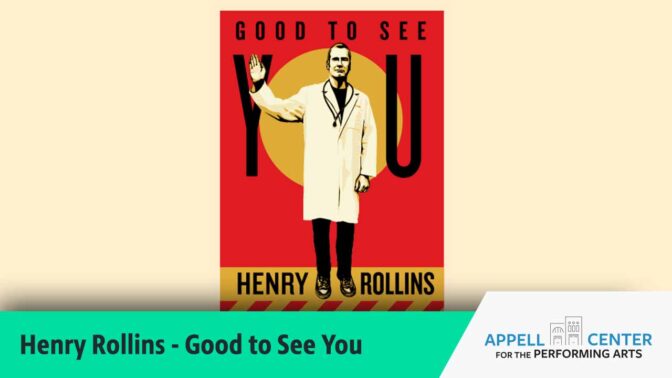 Win a pair of tickets to see Henry Rollins – Good to See You at the Appell Center
Tuesday, October 3 at 7:30pm
Tickets: From $35
On the Good To See You tour, Henry will faithfully recount the events of his life in the brief pre-COVID period since the last tour and when things got even stranger over the last several months. It's been an interesting time to say the least and he's got some great stories to tell.
In describing Henry Rollins, the tendency is to try to squeeze as many labels as possible into a single sentence. "Rollins is many things," says The Washington Post, "diatribist, confessor, provocateur, humorist, even motivational speaker…his is an enthusiastic and engaging chatter." Entertainment Weekly's list includes "Punk Rock icon. Spoken word poet. Actor. Author. DJ. Is there anything this guy can't do?" TV Guide has more concisely called him a "Renaissance Man" but if Henry Rollins could be reduced to a single word, that word would undoubtedly be "workaholic."
Deadline to Enter: September 22
Rules:
All Internet entries/comments must be received by Midnight EST on September 22, 2023 or they will be void.
Void where prohibited or restricted by law.
No purchase is necessary to enter this giveaway.
The giveaway is open to residents of the 50 United States and D.C.
All entrants must be 18 years of age or older.
Odds of winning depend on the eligible number of entries received for each drawing.
Prize winners will be notified by their registered e-mail. Winners must respond within 14 days with their valid shipping address, or the prize is forfeited and a new winner will be selected.
By accepting a prize, all winners agree that WITF may use his/her name in any and all media, including future advertising or publicity, without further consideration or compensation, unless prohibited by law.
By accepting a prize, all winners agree that WITF, affiliated merchants, will have no liability whatsoever for, and will be held harmless by winner for any liability for any injury, loss or damages of any kind, to winner or other persons, including (without limitation) injuries, loss or damages arising out of or relating to death, and, injuries, damages or losses to property, due in whole or in part, directly or indirectly, from the acceptance, possession, use or misuse of the prize or participation in this promotion.
One entry per person during the Contest Period.
In the event of a dispute regarding the identity of a participant's online entry, the entry will be deemed to have been made by the authorized holder of the e-mail account at the time the entry was made.
ELIGIBILITY RESTRICTIONS:
Employees of witf, its officers, directors, subsidiaries, affiliates, general sponsors, promotional partners, their respective subsidiaries, affiliates, parent companies, members of the immediate families (defined as spouse, child, sibling, parent, or grandparent), and members of the households (whether related or not) of any of the above are NOT eligible to participate or win in this Contest.
Persons who have won a prize in another contest or promotion of any kind from WITF within the thirty-day (30) period immediately preceding the start date of this Contest are not eligible to participate.
Contestants agree to abide with any applicable federal, state, local laws and regulations.