Ahead of Harrisburg school's demolition, William Penn High School alumni find strength in shared memories
The Harrisburg School District, under state control because of financial hardship, approved a $6.8 million demolition plan in June.
Listen to the story:
Linda Yarnell Klitch discovered her vocation for teaching when she was a student at William Penn High School in Harrisburg.  
She said she'll never forget the time her teacher, who had a long-term illness, let her teach the short-hand writing class when he was not feeling well. He encouraged her and reassured her that she knew what she was doing. 
Before going into teaching, she was taking commercial studies and had gone to her teacher for extra help.
"He says to me, 'You don't need to be in commercial, you need to teach,' and teach I did here for 35 years. So there was a teacher here that could see my potential and what I needed to do," Klitch said.
Klitch, who graduated from William Penn in 1966, went on to become an elementary school teacher in the Harrisburg School District. 
"He spoke over my destiny, and I don't think you can get a better memory than that," Klitch said. 
Klitch was among about 20 alumni gathered recently in front of the dilapidated building to reminisce about growing up in Harrisburg.
When she saw how her old school was decaying after it closed in 2010, she teamed up with other alumni to advocate for converting the old, abandoned school into a retirement community. That effort, as well as many others, never came to fruition.
The Harrisburg School District, under state control because of financial hardship, approved a $6.8 million demolition plan in June. That thwarted any hopes to revive the building. The district's court-appointed receiver, Lori Suski, said there was no other option. The district estimated that building renovation could cost up to $90 million.
For many alumni, it's the sad end of an era and a missed opportunity to repurpose the building into a space that could benefit the surrounding community. Others understand it is time to say good-bye.
'Wonderful Memories'
Elle Richard, class of 1966, has lifelong memories tied to William Penn. She even got married in the auditorium and posed with her wedding party at Italian Lake.
 There was no bus system when she was in school, and she remembers making the trek every day from her house on Cameron Street to Division Street in uptown Harrisburg to get to William Penn. 
That did not stop her from being active in extracurriculars. Richard was on the intramural basketball team, played softball and ran track.
"Our school was really our main source of getting together, meeting one another, keeping busy –quote unquote– and kind of staying out of trouble because they kept us busy," Richard said.
Many remember May Day, when they would crown a May Queen and she would glide down Italian Lake in a swan-shaped boat.
"We did dances around the May poles," said Betty Lopez, class of 1965, showing photos from her old yearbook.
"I have wonderful memories from this building. We had a great time,"  said Lopez, who 20 years later went on to graduate from the Harrisburg Steelton Highspire Vo-tech Program of Practical Nursing, which was in the same building. 
Lopez and a group of alumni raised money for a concrete bench so that they could sit and look at their school across from Italian Lake. The class of 1966 also raised funds to restore the fountain in the park.
"We loved our school," Lopez said. "We're just disappointed in the city and the school district."
Calobe Jackson, a local historian and member of the class of '48, remembers the marble floors and long, expansive hallways inside the school. In the winter, he and other members of the track team would run through the halls for practice. He remembers how his class beat William Penn's biggest rival at the time –John Harris High School – three years in a row. Everyone celebrated, he said.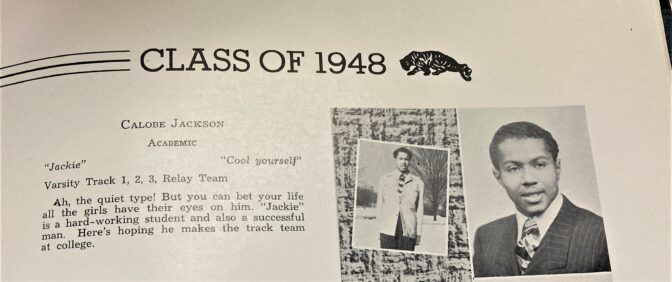 "Throughout the years John Harris had better football teams," Jackson said. "That was quite an accomplishment."  
Jackson also remembers his good friend and classmate George Gekas, who went on to serve in the House of Representatives for 20 years. 
Calobe, who served as a board member on Harrisburg School District in the 1990s and has organized tours inside the abandoned building, is doubtful the former high school could be repurposed as an education institution. He said the district does not have enough students to fill the building.
"The school population used to be about 13,000 and it dropped to about 6,500, so there was no longer any need for the school," Jackson said. "Even if you refurbished it now, there's no students to go to."
Capital Rebirth
Low enrollment and poor academic performance were some of the reasons the school closed down in 2010, when it was operating as a vocational school, according to PennLive. At that time, district officials were saying there was no way they could afford more borrowing to bring the structure up to standard. Since then, the building has stood empty, though the district still paid more than $100,000 each year for building insurance and security.
One Harrisburg nonprofit, Capital Rebirth, tried to buy the William Penn High School building in 2020. Mikell Simpson, CEO of Capital Rebirth, said the organization was offering to buy the building for $3.5 million, even though it was for sale for $2.5 million. Part of the proposal was to use 75 classrooms in the William Penn building to run a vocational technical school that could serve as an alternative to the Dauphin County Technical School. They also wanted to run an adult certificate program for people interested in learning trades such as plumbing or dry walling.
Simpson said he worked six years on the proposed project, had connections with local contractors, and was in the process of acquiring a USDA loan. Then, in January 2021, the district pulled the building off the sale list. The project also received 8,454 signatures in an online petition.
 "They didn't notify us at all. We had a live current bid, and didn't let us know, we found out through the school board meeting report that they weren't going to sell the building anymore," Simpson said.
On July 20, a group of community leaders and William Penn alumni also organized a town hall at the Nativity School of Harrisburg to explore ways to save the school and sign a petition.
What's next
The demolition includes extensive asbestos removal and is estimated to take a year to complete. Materials not contaminated with asbestos will be crushed down and flattened to the level of the ground. All signage, concrete sidewalks, curbing, tennis courts, gazebos and chain link fencing will be disposed of off-site. 
"We really need to have some kind of conversation about what can be salvaged before we just go in and do something," said Suski, the district's receiver, last month.
Kirsten Keys, a spokesperson for the district, said she knows of no date for the demolition. The company carrying out the demolition would need a few months to secure city permits.
Jackson hopes he can tour the building one more time. He said there are still some old photographs of World War II veterans hanging inside the building, and he would like to recover them.
"You remember your high school,' Jackson said. "High schools and colleges are things you're going to remember. It's always a certain place and when you see it deteriorate over the years, it's like your old homestead is deteriorating."