Updated: August 9, 2022 | 1:49 pm
The Doo Wop Project Takes on American Pop and Rock
A quintet of Broadway stars delivers a fresh take on some of America's greatest hits
Featuring stars of Broadway's smash hits Jersey Boys and Motown: The Musical, The Doo Wop Project recreates — and even re-imagines — some of the greatest music in American pop and rock history.
Filmed in front of a live audience, this concert special traces the evolution of Doo Wop from the smooth sound of five guys singing tight harmonies to the biggest hits on the radio today. Members of The Doo Wop Project are Charl Brown, Russel Fischer, John Michael Dias, Dwayne Cooper, Dominic Nolfi, and Musical Director Santino Paladino.
They'll take you on a journey with foundational tunes from groups like the Crests, The Belmonts, and Flamingos through their influences on the sounds of Smokey Robinson, The Temptations, and The Four Seasons, all the way to Doo Wop-versions of songs from modern musicians like Jason Mraz and Garth Brooks.
During the television special, viewers will have the chance to donate to WITF and receive tickets to see The Doo Wop Project live in Shippensburg. Donations for tickets can also be made online.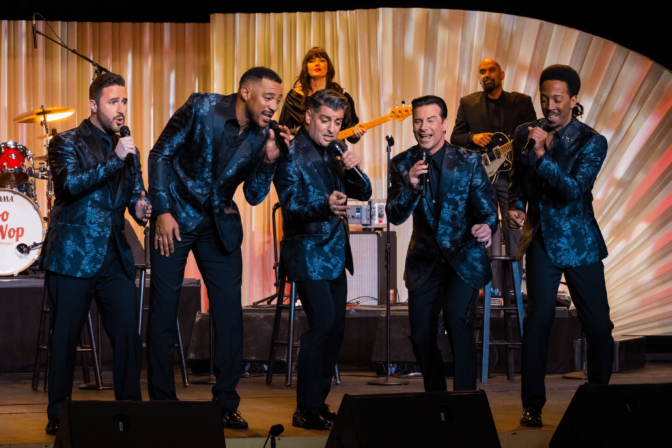 Watch
The Doo Wop Project
 on WITF TV or through the
PBS Video app
 Monday, August 15, or Sunday, August 21 at 8pm. It previously aired on WITF TV Thursday, August 11.
The Doo Wop Project delivers a fashionable and memorable spin on popular melodies from the Doo Wop era, encouraging viewers to reminisce or discover the classic sounds of Frankie Valli, The Del Vikings, and many more.
Enjoy The Doo Wop Project Monday, August 15, or Sunday, August 21 at 8pm on WITF TV or through the PBS Video app. WITF Passport members can stream The Doo Wop Project anytime with their login.