Harrisburg developer says creating affordable housing means more than new apartments
Entrepreneur George Fernandez wants to bring nearly two dozen units to south Harrisburg.
There are some things George Fernandez will never forget about growing up in Harrisburg's East Ridge apartments.
"I remember my mother and my two siblings and I lived in a low income apartment with a stove that had four burners, but only one burner worked," Fernandez told Harrisburg City Council earlier this month. "By the time the rice was done the chicken was cold."
Fernandez said he wants to offer something more attractive for people who are in situations like his family was.
"The overall goal is not just to bring something fresh and sexy to the city of Harrisburg," Fernandez said in the days following that city council meeting. "So that as those tenants move into those units, they can feel pride and dignity, that they're living in a place that just feels safe and welcoming."
His company, Fernandez Realty, will build a four-story, 23-unit housing development, called Sycamore Homes, on the 1400 block of Sycamore Street. It will join a neighborhood of duplexes, single family homes and another mixed-income housing complex that surrounded Foose Elementary School.
Harrisburg City Council voted unanimously this month to approve the lot consolidation and land development plan for the building. In coming months, Fernandez expects the project to be certified to accept assistance vouchers.
Fernandez said he hopes the $3.4 million project, expected to be finished and occupied by 2024, becomes the first development to meet the standards under a relatively new affordable housing city program. He also said the building will prioritize renters participated in assistance programs.
Beyond Fernandez's personal goals for the building, others say the development may offer relief in a real estate market that is squeezing renters and homeowners.
Harrisburg real estate harder to attain
Earlier this month, the New York Times noted that Harrisburg is the second most competitive rental market in the country — meaning there are more prospective renters in the city than there are available apartments.
Real estate agents and bankers in Central PA told WPMT Fox43 news that rising interests and stagnant construction are contributing to the problem.
The Fair Housing Council of the Capital Region, Inc. offers first-time homeowner workshops, landlord-tenant counseling and credit counseling.
Rhonda Mays, the director of finance for the housing council, says the housing situation is especially dire for people below, near or even considerably above the poverty line.
"The city of Harrisburg is currently experiencing an affordable housing crisis," Mays said. "We get calls from community members…that are losing their affordable homes either because the present landlord is selling the property to a new landlord, and the new landlord wants possession of the property without the tenants, and perhaps get new tenants at a higher rate."
Mays also said it is hard for people to keep up with rising costs.
"I've been associated with the Fair Housing Council for about 13…14 years, and I've never seen housing costs go up the way that they have within the past year," Mays said.
Mays was unfamiliar with specifics of Fernandez's development, but said there is a great need for affordable, single-occupancy housing for younger individuals and elderly people.
Fernandez described a similar vision when speaking with elected officials.
"So while two people can live inside a unit, we are targeting single occupancy for the most part," Fernandez told council. "We are looking at both senior housing vouchers, but section eight vouchers as well."
Fernandez added that his group is still working to be approved to accept those vouchers, which could lower the out-of-pocket price for qualified renters to around $200.
Rent at Sycamore Homes will adhere to the national standard rate for U.S. Department of Housing and Urban Development, which is currently marked at $769 for a studio, Fernandez said. The average cost of a studio in Harrisburg ranges from $900 to a little more than $1,100, depending on the online real estate site.
The Housing Alliance of Pennsylvania is a nonprofit organization based in Montgomery County that advocates for state and federal legislation that ensures people with low incomes can pay for homes.
Dauphin County has a "critical shortage" of affordable homes, according to the Alliance's data.
The demand for low-income housing is three times greater than the number of available affordable rental homes in Dauphin, the alliance reports.
The alliance also reports that the average pay for jobs labeled as essential during the COVID-19 pandemic—such as ambulance driver, teaching assistant and healthcare aide—do not make enough money to reasonably afford a two-bedroom home.
The average rent cost for a two-bedroom home in Harrisburg ranges between $1,300 and $1,600, depending on the online real estate platform.
What neighbors are saying
Under the ordinance passed by council last year, the city gives incentives for developers who provide at least 20% of their units as affordable housing for low-income renters.
"Affordable housing," as defined by the HUD, means rent must not exceed 30% of household income.
Incentives include tax abatement and zoning relief for developers.
Jose Martines lives in the Hall Manor apartments, which surrounds Foose Elementary School and is near the lot where Fernandez will build. He was not aware of the proposed project.
"They can do whatever they want," the 39-year-old mechanic said. "If people need housing, I don't see a problem with it."
The majority of neighbors in the area who spoke with WITF were generally welcoming to the idea, though one expressed concern.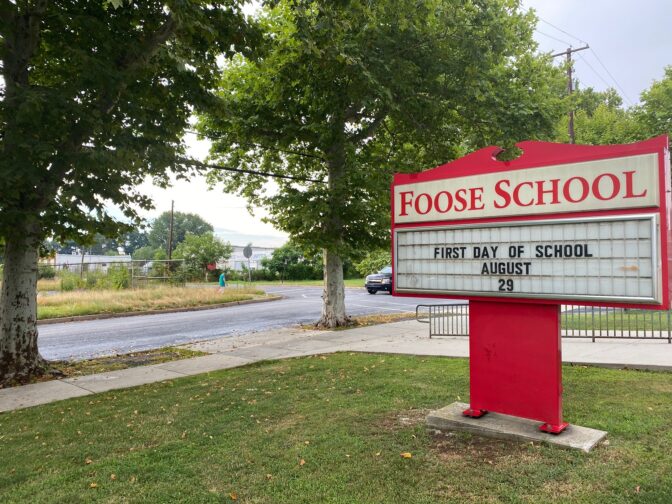 Ken Morris, 68, lives only a few houses down from the lot where Sycamore Homes is slated to be built.
Morris said learned about the proposed project from local news sources and expressed concerns about how it could affect the area.
Morris, who has lived in the area for nearly three decades, said he was most concerned about potential worsening of traffic on the block, which not only has an elementary school but only has parking spaces on one side of the street.
"Traffic already backs up quickly," Morris said. "It is not going to be a nice fit for this neighborhood." The project will have off-street parking, but Morris said he is also concerned about whoever moves in since there will be lots of young children in the area going to and from school.
Filling the gap
Fernandez describes himself as "a product of affordable housing," and says creating attractive low-cost living units holds personal significance.
"I feel like I have traumas from being a kid that I haven't addressed, and one of those traumas was low-income housing," Fernandez said. "I wanted to make more access and bigger opportunities, and overall I wanted to build something that would help to change the face of what low income housing looks like."
Fernandez is the founder and CEO of Latino Connection, a marketing and communications agency that has played an integral part during the COVID-19 pandemic to bring awareness and resources to rapidly growing Spanish-speaking communities across the commonwealth.
Latino Connection has partnered with the state Department of Health for mobile vaccination clinics. It is also helping local governments like the City of Reading launch community health surveys as part of a larger health initiative in the city.
"I just felt that there was still a gap," Fernandez said. "While Latino connection is out and about promoting education and health and wellness, the gap was that we weren't putting the tools into people's hands to allow them to live healthier, more active lifestyles."
Providing an avenue for people to afford an apartment gives people a sturdy foundation to address the other needs in their lives, Fernandez said.
The Sycamore Homes development appears to be just the first affordable housing goal for Fernandez, who said he wants to next look at town homes and other opportunities in many of the cities where Latino Connection has made an impact.
And aside from using quality materials for his developments, Fernandez said he wants to ensure that all of them have community rooms to host tech training, job training and health care screenings.
"So using a very community minded approach for any of our projects," Fernandez said. "All of our projects will have some form of community approach built into them."