'We have to help ourselves': Harrisburg town hall focused on gun violence and unsolved homicides in the city
About 70 people attended a town hall at the Nativity School of Harrisburg.
(Harrisburg) — With four homicides so far this year and a spate of other shootings, people who live in Harrisburg gathered Tuesday to talk about ways to address gun violence.
About 70 people attended a town hall at the Nativity School of Harrisburg. The event was sponsored by PennLive and focused on unsolved murders in the city, as well as new strategies for steering young people away from criminal activity.
Residents, grieving parents and social justice activists spoke to a panel including Dauphin County District Attorney Fran Chardo and Harrisburg Police Commissioner Thomas Carter.
By the end of the hour-long discussion, there were no specific action items local officials vowed to pursue going forward. But many who attended talked about how people cannot wait for officials to fix the problems with violence in their communities — they can take steps on their own. 
During a panel discussion, Carter told the crowd they have a role in helping address violence in their communities and asked for help in solving crimes.
"What's the answer? Why don't we love each other?" Carter asked. "I don't have the answer, but I'm smart enough to understand that I need you. I need the citizens of this city, not to be snitches or anything like that, but to look out for each other and look out for each other's kids and make the kids love each other."
Chardo echoed Carter's call for more community cooperation. He encouraged people to use Pennsylvania Crime Stoppers to report crimes anonymously.
Chardo said others in the community need to work with young people who are often involved in violent crime.
"We need to involve other professionals. I'm so glad we've got medical professionals and clergy present because this is a community effort and we cannot arrest our way out of it," Chardo said.
Dale Dangleben, a trauma medical director at Penn State Holy Spirit Hospital, shared what he has seen treating victims of gunshot wounds. He said he often operates on children as young as 14 "crying for their mother." He called on adults to "let go" of petty conflicts and pay attention to what is happening in their children's lives.
"We could talk about systemic racism, we could talk about all the other issues, all the other agendas that exist, but it's not going to help us, we have to help ourselves," he said.
Following the panel, people in the audience asked questions or made comments.
Kevin Dolphin, founder of Breaking the Chainz, an organization that helps at-risk youth, called on leaders to go out into communities in person, talk to young people and collaborate with grassroots organizations.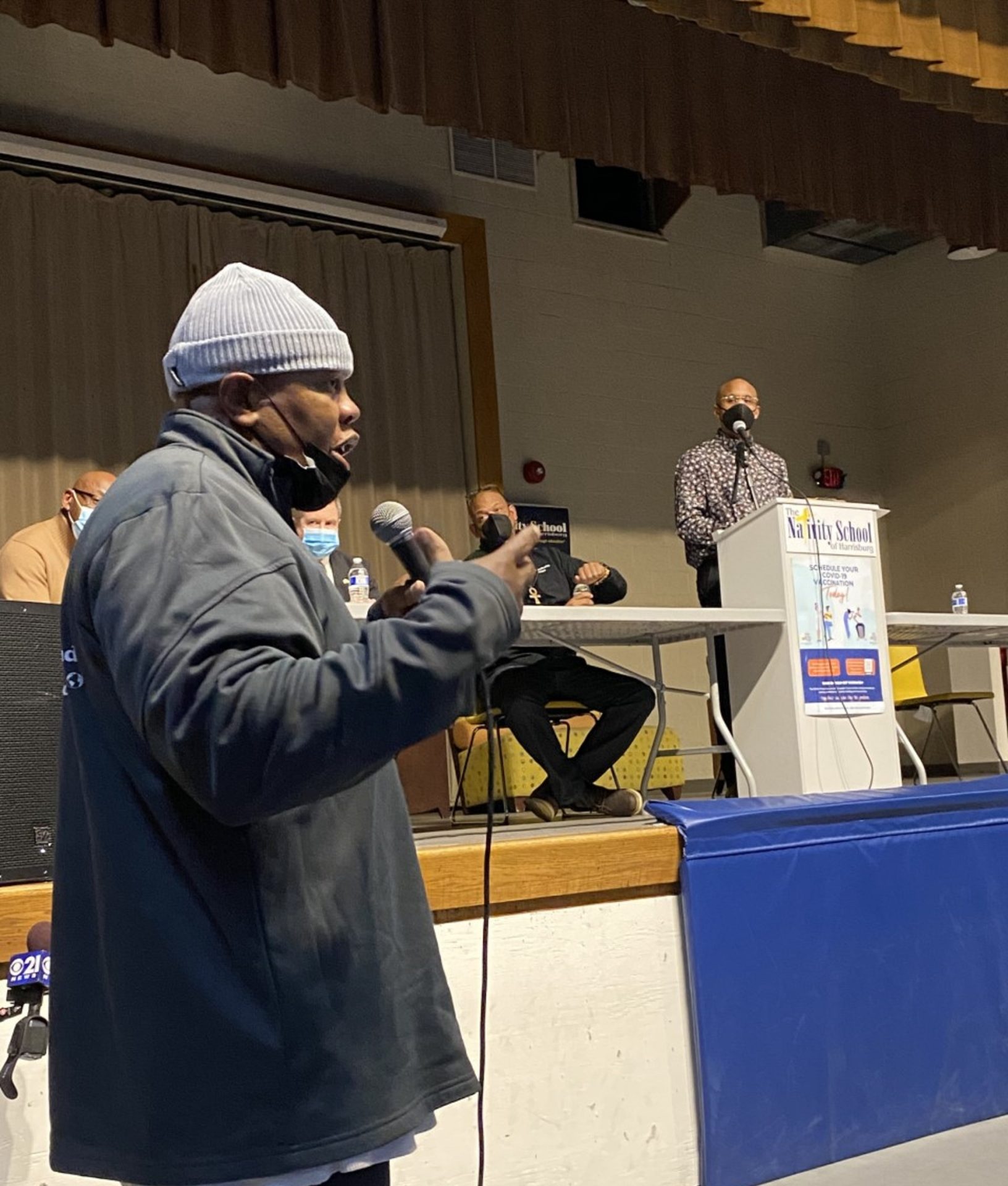 "You have to be able to meet these young kids where they're at, you got to be able to meet these individuals out there," Dolphin said. "A lot of people can't go to some of these places and talk to these individuals and inspire them to change their lives."
Ana White spoke about the need to re-evaluate funding to current government programs and nonprofits that have failed to meet their goals of tackling violence in Harrisburg. In her former role as Community Policing Relations Director, White helped secure a $500,000 state grant to start a gun violence interruption program.
"It's time for you all to ask the county to consider different programs, because when new programs come, when new people come, when young people come, what we hear is, 'Well, we're out of money, because we're so busy paying all the other people that don't do the thing,'" White said.
Patricia Mae of Harrisburg shared how gun violence has impacted her family. 
Her grandson, Daiquan Phillips, was killed the day after Christmas. He had just turned 20. Mae said that five hours before he was shot, Phillips had been in his living room playing with his 1-year-old son.
"It's going to take a village to raise that son because he don't even know what's going on. He doesn't know," Mae said. "He walks around all day, 'dada, dada.'"
Phillips' case is one in a list of unsolved killings. 
Mae criticized the county for taking too long to bring justice to families who have lost a loved one. 
"The worst part is when I wake up every day, and I can see the face of my family, waiting for a phone to ring to get answers," Mae said.
Chardo agreed that the city has "way too many" unsolved murders. He said detectives are working to solve cases.
"We have one shot at these and we're not going to bring them prematurely because we've got one shot of getting justice," he said. "And if we bring them prematurely, we lose the case."
Other people at the forum highlighted the need for more mental health resources for youth and counseling services at schools.
---
Gabriela Martínez is part of the "Report for America" program — a national service effort that places journalists in newsrooms across the country to report on under-covered topics and communities.