WITF earns six RTDNA Regional Edward R. Murrow Awards — tops in its region
(Harrisburg) — In a year filled with an unrelenting news cycle from the coronavirus pandemic to racial justice protests to the 2020 election, WITF's news department has been recognized by the Radio Television Digital News Association (RTDNA) with six Regional Edward R. Murrow Awards. It marks the 11th straight year the public media organization has earned at least a half dozen RTDNA Regional Murrows.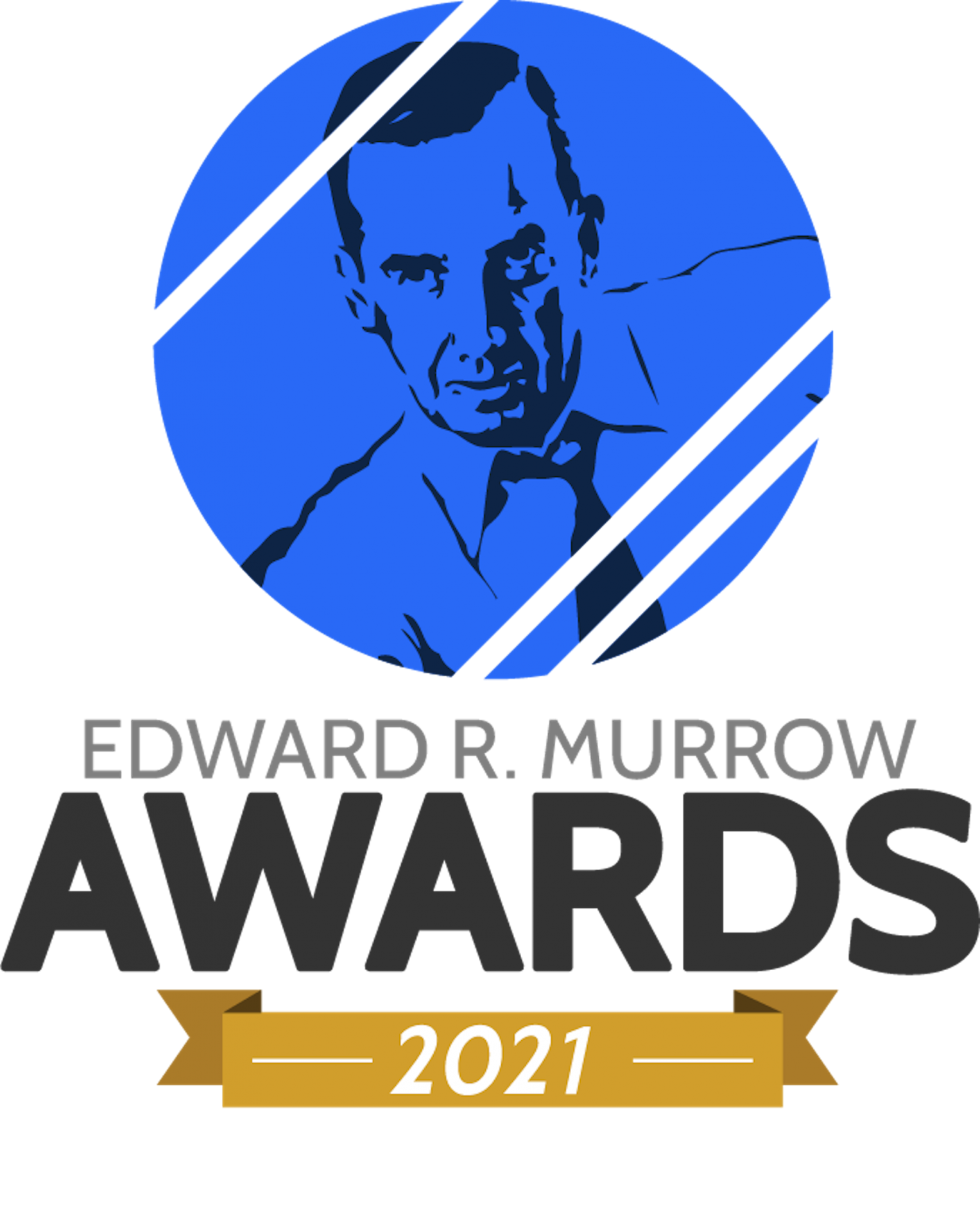 The awards for excellence in broadcast and digital journalism are among the most prestigious awards in the industry. Since 1971, the Radio Television Digital News Association has used these awards to recognize news organizations that demonstrate the excellence that Edward R. Murrow made a standard for the broadcast news profession.
"The regional RTDNA Edward R. Murrow Award recipients we announce today produced extraordinary journalism that brought clarity and context to 2020's biggest news stories," said RTDNA Chairwoman Andrea Stahlman.
The awards are presented to small and large radio, television and digital outlets based on 14 geographic areas. WITF competed against media organizations of similar size in Pennsylvania, New York and New Jersey.
"In the midst of a global pandemic and an eventful election season, WITF's journalists once again demonstrated their commitment to providing context to the news and giving a voice to our community. We are proud of this team's work and the resilience they exhibited during this challenging time," said WITF President and CEO Ron Hetrick. "Thank you to the donors, corporations and foundations that enable WITF to invest in the high quality and impactful journalism reflected in these awards."
Regional honorees are automatically considered for a National Murrow Award.
"WITF strives to bring underreported issues to light, while giving a voice to marginalized people and communities," said WITF Senior Vice President and Chief Content Officer Cara Williams Fry. "It's a testament to our team that journalists continued to find these stories, even as they focused on the pandemic, racial justice protests and a chaotic election."
"Journalists across the country were challenged like never before in the last year. At WITF, we worked to ensure we were keeping the community informed on what seemed like an hourly basis in the face of major story after major story," said WITF's Multimedia News Director Tim Lambert. "I am so proud to see our team's dedication and focus throughout a trying year, recognized by their peers."
Here are the honorees:
Continuing Coverage
Election 2020 (WITF staff)
Heading into the 2020 presidential general election, Pennsylvania was considered a key battleground state.
It lived up to its billing, as the state found itself at the center of campaign events, misinformation about election results, and baseless lawsuits filed by the Trump campaign.
WITF's coverage included  building trust with its audience, hearing from voters about issues that mattered to them, fact-checking candidates' speeches and breaking down the many lawsuits filed after the final results were tallied.
"In a tumultuous election season, our staff had many, many conversations about how best to cover some unprecedented events," said WITF Senior Editor Scott Blanchard. "We worked hard to do fact-based, public-service journalism that cut through the political rhetoric."
Hard News
A Family's Sorrow and Questions Unanswered (Brett Sholtis)
A Lancaster police officer responding to a 911 call on a Sunday in June of 2020, shot and killed a man who had schizophrenia and bipolar disorder — after that man came out of a house and ran toward him with a knife.
Transforming Health's Brett Sholtis approached the tragic incident from a unique angle and delved into questions over why 27-year-old Ricardo Munoz  never got the help he desperately needed.
News Series & Investigative Reporting
"She's breaking down": Inmates at Bucks County jail decry treatment of suicidal woman with severe mental illness (Brett Sholtis)
When Kim Stringer was a teenager, she was diagnosed with bipolar disorder. Transforming Health's Brett Sholtis first told her struggle with a serious mental illness in 2019, detailing how she and her family were crossroads in finding her help. In June of 2020, he heard from women incarcerated in Bucks County jail after finding his previous story about Kim.
The inmates were desperate to get help for Stringer, who was in the jail and living in horrific conditions.
Brett used emails and the testimony of three inmates to produce a story that directly led to Stringer getting moved into a psychiatric facility. He also obtained dozens of public records requests, spoke with experts to produce a series of stories that looked at how police and prison guards demand compliance from people with serious mental illnesses who may not be able to comply — making a bad situation worse.
Sholtis' work to tell Kim's story earned two Regional Murrow Awards, among his four honors this year.
"Telling stories about people, such as Kim Stringer, who live with serious a mental illness, poses unique challenges. I am thankful to WITF's team of editors who in some instances sacrificed nights and weekends to take my calls, provide edits and help me rise to those challenges," Sholtis said. "For me, this recognition for our work is a reminder to keep striving to serve and help vulnerable people."
Excellence in Writing
Voices from Harrisburg's shutdown protest-turned GOP rally (Brett Sholtis)
In April, during the first peak of the coronavirus, protesters swamped the Pennsylvania state capitol. What was billed as a protest against coronavirus-related lockdowns turned into an election-year rally for President Donald Trump and Pennsylvania Republicans. Transforming Health reporter Brett Sholtis put on a mask, taped his microphone to a hiker's trekking pole and went out to talk with protesters, many of whom were armed, and discovered there was a lot more to their anger than businesses being temporarily shuttered. He ended up capturing a moment that foreshadowed much of what was to come later that year in the wake of lies over the 2020 election results.
Excellence in Sound
Keys on the Move (Joe Ulrich)
With music venues closed for much of 2020, due to the coronavirus pandemic, singers and bands had to be creative in how they safely could perform for an audience. WITF's Joe Ulrich took listeners to the city of Lancaster for Keys on the Move — an effort by the nonprofit Music For Everyone.
He followed along as bands, strapped onto the beds of flatbed trucks, performed as they drove around the city.
"It's amazing how struggle can bring out the best in people. Live music suffered tremendously during the pandemic, but I was heartened to be able to show how people were determined to keep music in their lives," said Ulrich, who earned his ninth career Regional Murrow. "I feel honored to have been able to go out on the street, interview people through their masks and highlight the determination of people in our region to persevere in the face of adversity."
Pennsylvania organizations KYW Newsradio, NBC 10 Philadelphia, WESA, WHTM, WHYY, WPXI and WTAE also received Regional Edward R. Murrow Awards.
Since 2006, WITF has received 85 RTDNA Regional Edward R. Murrow Awards — the most of any media organization in Pennsylvania. In the last nine years, WITF has garnered 72 Regional Murrow Awards — which puts the organization among the top stations in the country in markets 51 and smaller. Additionally, it's been awarded 17 National Edward R. Murrow Awards since 2007.
The Radio Television Digital News Association has been honoring outstanding achievements in broadcast and digital journalism with the Edward R. Murrow Awards since 1971. Murrow's pursuit of excellence in journalism embodies the spirit of the awards that carry his name. Murrow Award recipients demonstrate the excellence that Edward R. Murrow made a standard for the broadcast news profession.