WITF Remembrance of Mark VanBlargan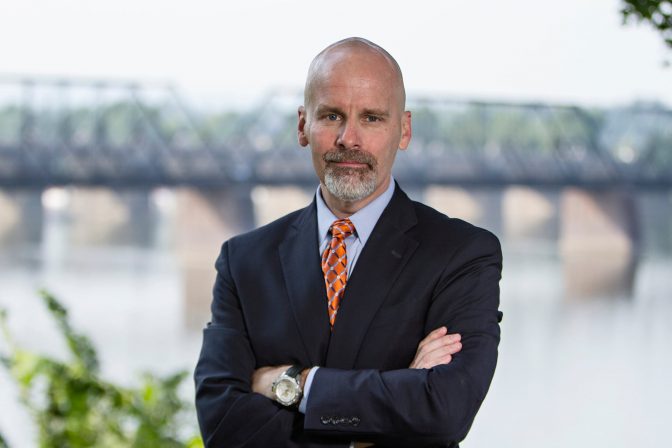 Harrisburg, PA –
With great sadness in our hearts, we honor and remember Mark VanBlargan, Chair of the WITF Board of Directors. Mark was an astute and devoted attorney and Vice Chair of McNees. He passed away on Monday, August 3.
Mark's passion and commitment to the mission of WITF, anchored by a sincerity and an unmatched sense of humor, established him as an integral part of the WITF family. Mark was a lifelong believer in public media, a supporter and a WITF member for almost 30 years.
Mark joined the board in 2008 and throughout his tenure, his comprehensive approach and expertise strengthened WITF and its service to the region. Mark's wisdom helped guide the organization through the spectrum auction process and the expansion of its endowment. Further, he was an important voice in the national search process to identify a successor to WITF's retiring long-time President and CEO.
He chaired the Nominating Committee for seven years, was elected Vice Chair of the board in 2016 and was elected Board Chair this past December. Mark was a critical part of guiding the organization to the growth we now enjoy.
WITF and our community have lost a treasured friend. Our sympathies and deepest condolences go out to Mark's family and everyone who had the pleasure to know him.
We are grateful for the time that we had with Mark and will greatly miss him.
Ron Hetrick
WITF President
Susan Eckert
Vice Chair, WITF Board of Directors
###
About WITF
WITF is a trusted provider of public media news and programming for approximately 2.3 million people in 19 counties of Central Pennsylvania, encouraging children and adults to Live Inspired®. A member station of PBS and NPR, WITF's media services include public television (WITF TV and WITFK PBS KIDS 24/7), public radio (WITF 89.5 & 93.3), websites (including witf.org, TransformingHealth.org, PaPost.org, stateimpact.npr.org/Pennsylvania, and ExplorePAhistory.com), and a production services division (Media Solutions). WITF's mission is to strengthen our communities by connecting us to each other and to opportunities for lifelong learning. WITF engages minds and enriches lives. For more information, visit witf.org.
Press Contact: Sarah Sheehan, 717.919.8924, sarah_sheehan@witf.org