Whats Cookin' Mama: A community blog
Follow Kristi Ondo's adventures feeding her little family! Neither Kristi nor her husband are chefs, but they enjoy cooking fun new recipes and raising their daughter.
I am beginning to feel like every night in my kitchen is a Chopped episode. "Okay, I have chicken, a few potatoes, and absolutely no green veggies…what kind of healthy dinner can I make from that?!" Mark and I have made a pledge to sit down this weekend and go over the pantry items, recipes, upcoming events on our calendar, and do some honest to goodness meal planning. In the meantime, I just pretend Ted Allen is in my kitchen.
Last night I did indeed have thawed chicken breasts in the refrigerator and a few potatoes…and, sadly, no green veggies. I did have peppers, but since Evie has been begging asking for green beans, I decided to make a preschooler's dream dinner: Chicken fingers, potato "chips", and grapes. That way, at least I could say there was something green on the table.
This recipe is super simple, and semi healthy. I pounded down the chicken breasts and cut them into smaller pieces with the kitchen shears. I then got out three bowls and put in the first whole wheat pastry flour, the second got eggs and milk whisked together, the third was bread crumbs. Here's where I really fell down on this meal. No gold medal for Mommy on health: Progresso Bread Crumbs are FULL of all of the bad stuff. Next time we make this, I will have to do better. However, I grew up eating them and I seem to be okay. These are easy to coat due to the smaller size. First dredge each piece in the flour, shake off excess, dip in the egg and milk, and then roll in the breadcrumbs. After they were coated, I put them aside.
The potatoes were quick; each got scrubbed, and then went for a spin in the food processor. Coat them with olive oil, kosher salt, and ground black pepper, and into the oven they go. I usually do 400° for one half hour at least. Putting them on parchment paper makes life (and clean up) a lot easier.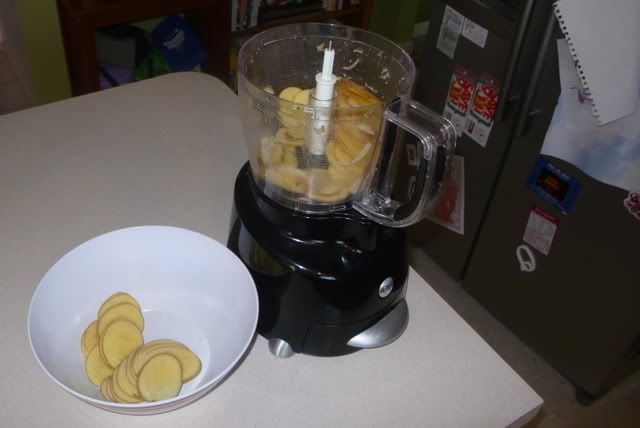 After the potatoes have been in for 15, I put the chicken in the 375° preheated oven for 15 minutes. They cook up nice and fast. If you do not have a double oven, doing both at 375° will work fine, just put the potatoes in for closer to 25 minutes before you start cooking the chicken.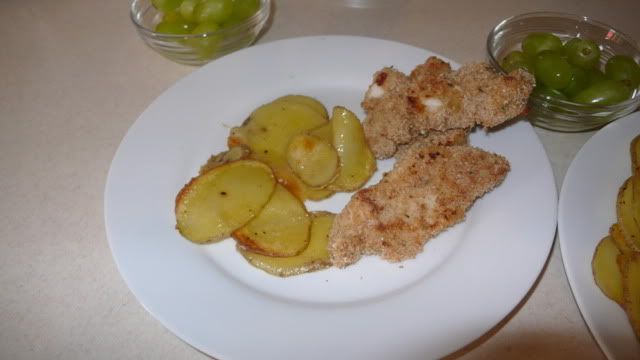 Dinner came together quickly, everyone enjoyed it, and it was a great excuse to make a dipping sauce (recipe will follow). The hubs and daughter went with the BBQ, and all were happy.
Chicken Fingers
2 good sized chicken breasts, pounded down and cut into smaller pieces
1 cup whole wheat pastry flour
2 eggs plus a good splash of milk, beaten
1 ½ cup breadcrumbs with seasoning
kosher salt and pepper
Preheat oven to 375°. Season the chicken with the salt and pepper, dredge through each of the bowls, starting with the flour and ending with the breadcrumbs. Place on cookie sheets, bake for 7 minutes, flip each piece over, bake for 6-7 minutes more. Serve with dipping sauces.
Cooking Mama's Favorite Chicken (and potato slice) Dipping Sauce
Champagne or Dijon mustard
Olive oil
Tarragon
Kosher Salt
Fresh Ground Black Pepper
To do this quickly for tonight's sauce, I used a ramekin, squeezed in about two tablespoons of the mustard, two tablespoons of olive oil, good sprinkling of tarragon, pinch of salt and a dash of pepper…whisk together with a wire whisk or fork. Yum.