Whats Cookin' Mama: A community blog
Follow Kristi Ondo's adventures feeding her little family! Neither Kristi nor her husband are chefs, but they enjoy cooking fun new recipes and raising their daughter.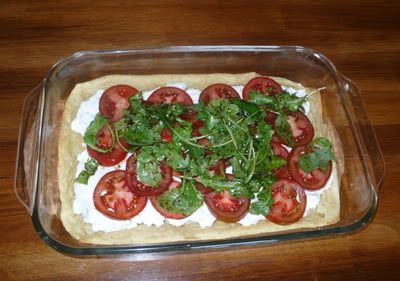 Today I was streaming through Twitter catching up on Olympics results when a Williams-Sonoma tweet caught my eye. It was their recipe of the day for meatless Monday. The picture that went with their recipe alone was enough to make me want to have it for dinner! Luckily, I had built in a trip to Wegman's before coming home, so I was able to grab the necessary ingredients.
First big note on this one, DO NOT do as I did and misread the list. It calls for a ½ pound of goat cheese…not 1 ½ pounds. Trust me, even the goat cheese lovers out there will be scraping the extra off like we did. Whoops. As we're sitting there eating it I'm mentally composing this blog post and thinking how I am going to tactfully state their recipe is wrong. Turns out, their recipe is fine; it was an operator malfunction instead.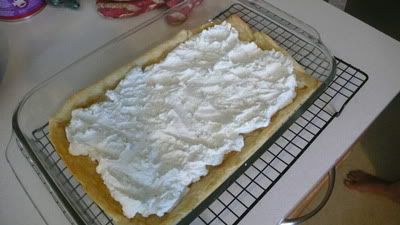 See? A trained chef would have said "geez this is a lot of cheese" and re checked the recipe. Me? Nope.
I got ahead of myself though, because first came the "flaky pie dough" recipe that accompanied this one. I must confess, I love love love my food processor. It made this so easy! It turned out great, my only problem was not having an actual tart pan or a pan of the called for size. So, I had to spread it a little thinner and I lacked enough pie weights to hold it down. In the end, it was a little puffy, but delicious…I think, it was hard to tell under all of that goat cheese. Our daughter was less than thrilled, so we scrapped it all off and gave it back. No dice. We tried a trick…that almost worked:
In the end, she ate most of the tart and one slice of tomato. Not a favorite meal of the little one.
Mommy and Daddy however did enjoy it, the arugula and basil salad over the top really added to the flavors. It was also special to take the basil from the plant Evie gave me for Mother's Day. We used kumato tomatoes because they looked very interesting to me and I couldn't find the heirlooms.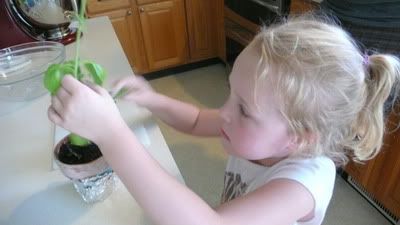 Taking leaves from the basil plant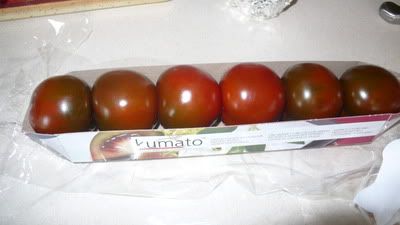 kumatos, brown tomatoes, were nice and sweet
Again, if I hadn't overloaded on the goat cheese this would have been a very enjoyable summer evening meal. The recipe was pretty quick and easy to follow and it wasn't an expensive dish to put together. Would have been even less expensive with less goat cheese purchased.

Here is the link again to the recipe: http://blog.williams-sonoma.com/todays-recipe-goat-cheese-and-heirloom-tomato-tart/
Enjoy!