Whats Cookin' Mama: A community blog
Follow Kristi Ondo's adventures feeding her little family! Neither Kristi nor her husband are chefs, but they enjoy cooking fun new recipes and raising their daughter.
We tried a brand new dish this evening to rousing success: a frittata. My four year old certainly had fun with the name. We found a recipe in a stack of old Good Housekeeping magazines my mother gave to me. It was billed as a quick, cheap, but healthy meal for your family. They had me at quick and cheap.
The ingredients were simple, potatoes and eggs being the main fillers. We did not have the carrots that were called for, but orange sweet peppers were a great substitute. Personally, my favorite part was the garnish of sliced cherry tomatoes, fresh cilantro, minced garlic, and green onions. My husband and I also added spice to ours…his, the usual sriracha, mine the sambal oelek.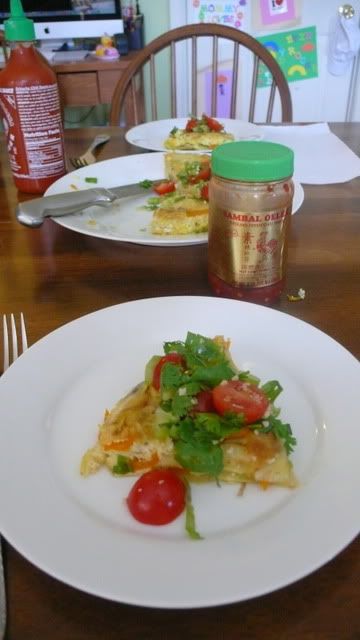 Aside from no carrots, the only other alteration I made this time was to lesson the amount. 12eggs and a pound of potatoes is a lot of food for our little three person family. As it was, we have half of it left over … and that will most likely find it's way into my husband's breakfast wraps.
We will definitely be experimenting with ingredients for more frittatas.. It was sort of a sophisticated way to have breakfast for dinner!
Try as I might, I could not located the exact recipe online. Not that it matters, there are probably more frittata recipes out there than I can imagine. Here is a link to a page of potato frittata (I dare you to say that out loud and not start singing "Let's Call the Whole Thing Off) recipes: http://www.recipe.com/search/?searchTerm=Potato%20Frittata
For what we made, all you'll need is:
3 Yukon gold or russet potatoes, scrubbed, and sliced thin (I used our food processor)
6 eggs, beaten with a whisk with ¼ cup green onion, a dash of kosher salt, and a good measure of fresh ground black pepper
2 orange baby peppers, sliced thin
Olive Oil
Garnish: Cherry tomatoes, halved; cilantro leaves torn; minced garlic (about a clove); and ¼ cup green part of green onions.
Saute the potatoes in an oven safe pan with olive oil. After about 5 minutes, add in the peppers. Once the potatoes have browned a bit, pour the egg mixture over and transfer the pan into the pre-heated oven (375 degrees). Bake for 18 minutes.
Allow to rest on a wire rack for 5 minutes, invert onto a plate (we had to help ours out with a knife and spatula), and cover with the garnish.