Whats Cookin' Mama: A community blog
Follow Kristi Ondo's adventures feeding her little family! Neither Kristi nor her husband are chefs, but they enjoy cooking fun new recipes and raising their daughter.
My husband Mark likes to make breakfast wraps. First, they were eggs and veggies. Somewhere along the line he started adding black beans. The next progression was to make the black beans from their natural state, rather than using the canned variety. Yesterday, he made a BIG batch. He made enough for a corn and black bean salad we were taking to friends' house for dinner, some for his breakfast wraps the coming week, and then enough apparently for the US Army. In other words, we had a surplus of black beans. SO, after our family got back from our hike today, he set out to find a recipe for dinner that would help use up the plethora of black beans in our refrigerator. On Simply Recipes, he found: Spicy, Citrusy Black Beans. He then offered to make dinner. It was 90 degrees out and we don't like turning on the air conditioning, so yes. Yes please honey, you go ahead and make dinner. I did my part, and found the recipe for Spanish rice. After that, I just sat around alternately crafting this blog entry and playing with our daughter.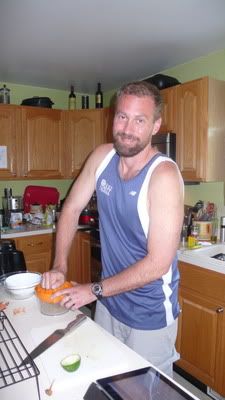 The handsome and capable chef.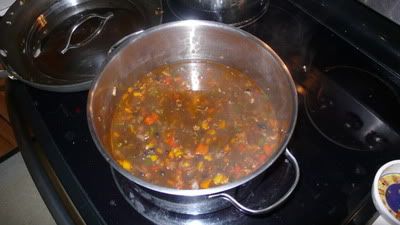 The yumminess on the stove. Seriously. It smelled so good I didn't care it was contributing to the heat in the house.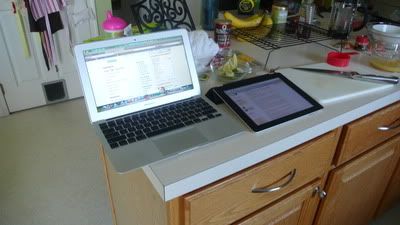 I found this picture humorous. Each of the recipes, one on my MacBook, one on his iPad. So happy I finally bought that cookbook holder....


The finished product. It was beyond yummy. Perfect meal. I recommend adding some tortilla chips to your table for this, it was a nice crunchy way to scoop up all that goodness. The Spanish rice was a little on the bland side, but was a perfect accompaniment to the spicy black beans.

Recipe links in the blog and here as well:

Spicy, Citrusy Black Beans

Quick Spanish Rice