Whats Cookin' Mama: A community blog
Follow Kristi Ondo's adventures feeding her little family! Neither Kristi nor her husband are chefs, but they enjoy cooking fun new recipes and raising their daughter.
Quick last post for the week. Tomorrow is pizza night, therefore tonight my final night of cooking for the week. While many women would rejoice at this, not so much me. I really enjoy cooking and trying new flavors. However, I have noted that all three of my first posts for you were original(ish) recipes – nothing fun or new, no experiments in our house. I just received a new cookbook in the mail, so I have some research material for next week!
Thursday Stir-Fry
Ingredients
Boneless skinless chicken thighs – marinated in next three ingredients
Dried ginger
Tamari
Kosher salt and pepper
Sliced peppers
Carrots, chopped into rounds (and then sliced in half if you have little ones)
Sugar Snap Peas
Minced garlic
Minced ginger or ginger paste
Vegetable oil
Basmati Rice - make the switch away from minute rice if you haven't already. it is worth it, trust me.
Directions
Cook rice according to package directions.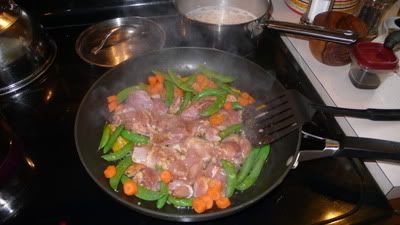 Bring oil in large sauté pan or wok to medium high heat, with garlic and ginger. Throw in veggies and chicken. I like to cook it all at a high-ish temperature to get a nice sear without making the veggies soggy. For most chefs, putting the chicken in first for a while also works well.
Serve over or beside rice with sliced green onions and soy sauce.
It was a hit with the little one!